The first touchdown to be scored.  What the first score of the game will be.  When the first score of the game will occur.  These are just a few of the Super Bowl 52 scoring prop bets that will be available.  SCROLL DOWN TO SEE SOME EXAMPLES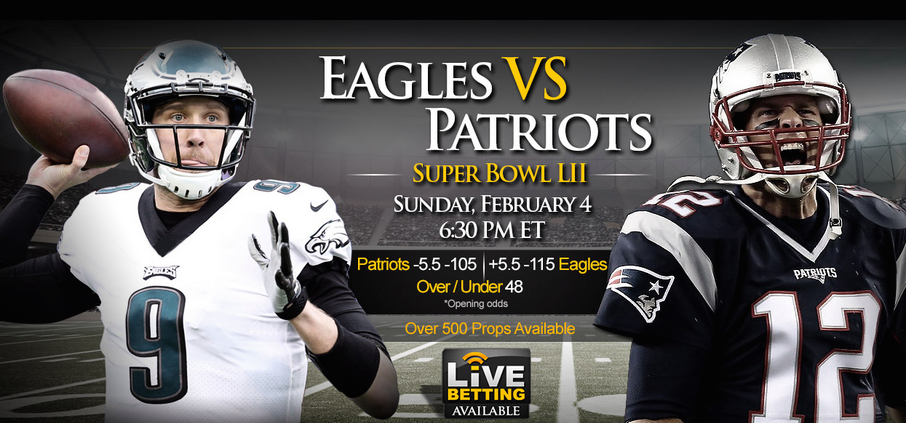 Player to score first touchdown
Rob Gronkowski +650
Zach Ertz +750
Brandin Cooks +750
Alshon Jeffery +800
Jay Ajayi +800
Nelson Agholor +850
LeGarrette Blount +850
Dion Lewis +950
James White +1150
Rex Burkhead +1200
Danny Amendola +1200
Torrey Smith +1350
Chris Hogan +1450
Tom Brady +2500
Nick Foles +2750
Corey Clement +2750
No TD scored in game +17000
Field +1100
Rob Gronkowski would pay out $75 for every $10 bet should he score the first touchdown.  Those payout odds increase for every other player.
You can also bet on the total OVER/UNDER number of touchdowns scored in Super Bowl 52 as well as the shortest and longest touchdown scored (OVER/UNDER Yards).
There are odds on whether each team scores in all four quarters.
Longest touchdown scored
Over 42.5 yards (-115)
Under 42.5 yards (-115)
Shortest touchdown scored
Over 1.5 yards (-115)
Under 1.5 yards (-115
Total touchdowns
Over 5.5 (-115)
Under 5.5 (-115)
Patriots total touchdowns
Over 2.5 (-180)
Under 2.5 (+140)
Patriots total points
Over 26.5 (-120)
Under 26.5 (-110)
Patriots score in all four quarters
Yes +200
No -300
Patriots score in both halves
Yes -1500
No +700
Eagles total touchdowns
Over 2.5 (-115)
Under 2.5 (-115)
Patriots total points
Over 21.5 (-120)
Under 21.5 (-110)
Eagles score in all four quarters
Yes +360
No -500
Eagles score in both halves
Yes -750
No +500
Quarter with most points scored
1st +450
2nd +150
3rd +500
4th +170
Team to score first in game
New England Patriots -150
Philadelphia Eagles +110
Final score of game a touchdown
Yes -150
No +120
First offensive play of game
Pass/sack +100
Rush -130
- Dan Shapiro, Gambling911.com