AcePerHead.com is offering Margin of Victory prop bets for this year's Super Bowl.  These prop prices can be customized accordingly.

Across the board, payouts start at $300 for every $100 bet on the spread Margin of Victory - New England 1 to 6 points.
The Eagles by 1-6 points typically pay $400 as does the Patriots 7-14 point Margin of Victory.
Pricing can be adjusted accordingly.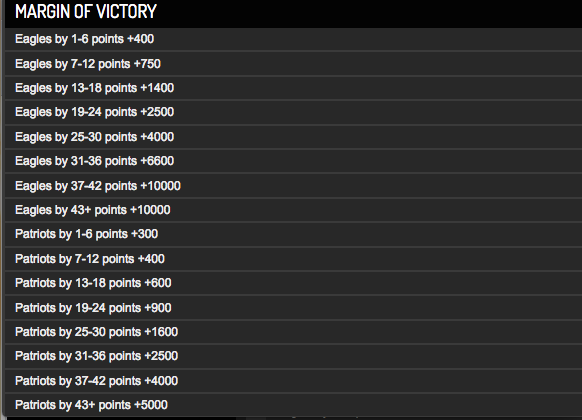 AcePerHead.com will be offering Margin of Victory odds for the Super Bowl first half as well.
Typically the Margin of Victory Super Bowl prop offers some of the best payouts but do leave bookmakers with a certain degree of exposure should the game fall within the spread margin (in this case Patriots 1-7 points). 
One of the largest Pay Per Head companies on the planet, AcePerHead.com is a full service, 24/7 provider of online bookmaking software with odds on nearly every sport, monitored every second in order to be responsive to injury and trade news as well as sharp action coming in.   AcePerHead.com also offers LIVE IN-PLAY WAGERING for all nationally televised games right up to the final second of play.
- Don Shapiro, Gambling911.com