You can use your credit card to place a World Cup wager online, though be mindful that typically only Mastercard and Visa are accepted.  AceSportsbook.com reports a very high acceptance rate.
We mention "acceptance rate" as some credit card issuing banks do not permit cards to be used for gambling purposes on the Web.  Wells Fargo is one such bank.
Some jurisdictions do not permit cards to be used on the Internet for the purpose of gambling either based on restrictive policies that typically favor state-run gambling monopolies though other nations like Saudi Arabia strictly forbid the activity.
Alternative third party methods of deposit and withdrawal are widely available throughout the world. In such cases, American Express, Discovery and other cards are sometimes accepted.
Just a quick note that betting limits are often reduced through funding with a credit card and, likewise, bonus offers sometimes do not apply via this method.  Customers are credited back via other payment forms since credit card companies do not permit direct gambling payouts via the cards themselves.
Scroll Down For More…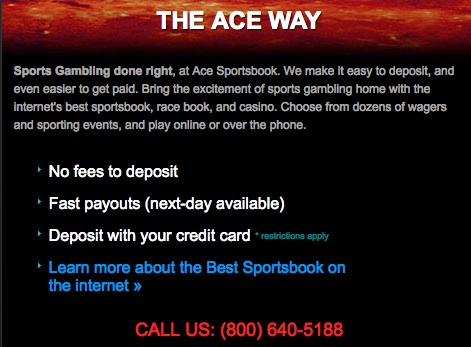 FIFA - WORLD CUP - Jun 14

 

Jun 14

26253

JAPAN

+180

o2½-120

PK-115

 

9:00 PM

26254

IVORY COAST

+170

u2½-120

PK-125

 

9:00 PM

26255

 

+225

 
 
 

Jun 14

26273

COSTA RICA

+785

o2½+125

+1+103

 

3:00 PM

26274

URUGUAY

-255

u2½-165

-1-143

 

3:00 PM

26275

 

+335

 
 
 

Jun 14

26277

ITALY

+205

o2-120

PK-110

 

6:00 PM

26278

ENGLAND

+175

u2-120

PK-130

 

6:00 PM

26279

 

+195

 
 

FIFA - WORLD CUP - Jun 15

 

Jun 15

26297

ECUADOR

+220

o2-120

PK+108

 

11:00 AM

26298

SWITZERLAND

+150

u2-120

PK-148

 

11:00 AM

26299

 

+205

 
 
 

Jun 15

26301

HONDURAS

+1150

o2½+108

+1½-135

 

2:00 PM

26302

FRANCE

-305

u2½-148

-1½-105

 

2:00 PM

26303

 

+382

 
 
 

Jun 15

26321

BOSNIA HERZEGOVINA

+845

o2½-125

+1+128

 

5:00 PM

26322

ARGENTINA

-294

u2½-115

-1-168

 

5:00 PM

26323

 

+385

 
 

FIFA - WORLD CUP - Jun 16

 

Jun 16

26325

NIGERIA

+120

o2-120

-½+110

 

2:00 PM

26326

IRAN

+280

u2-120

+½-150

 

2:00 PM

26327

 

+125

 
 
 

Jun 16

26345

PORTUGAL

+270

o2½+112

+½-140

 

11:00 AM

26346

GERMANY

+110

u2½-152

-½EV

 

11:00 AM

26347

 

+235

 
 
 

Jun 16

26349

USA

+204

o2-117

PKEV

 

5:00 PM

26350

GHANA

+147

u2-123

PK-140

 

5:00 PM

26351

 

+226

 
 

FIFA - WORLD CUP - Jun 18

REGULATION TIME ONLY

 

Jun 18

26213

CROATIA

-143

o2-145

-½-153

 

3:00 PM

26214

CAMEROON

+450

u2+105

+½+113

 

3:00 PM

26215

 

+270

 
 
 

Jun 18

26233

NETHERLANDS

-375

o3EV

-1½-130

 

12:00 PM

26234

AUSTRALIA

+1200

u3-140

+1½-110

 

12:00 PM

26235

 

+475

 
 
 

Jun 18

26237

CHILE

+405

o2½-125

+½+115

 

6:00 PM

26238

SPAIN

-145

u2½-115

-½-155

 

6:00 PM

26239

 

+295

 
 
- Aaron Goldstein,  Gambling911.com