Betting on the Color of Kate Middleton's Wedding Dress a Sure Thing?
Published on:
Apr/12/2011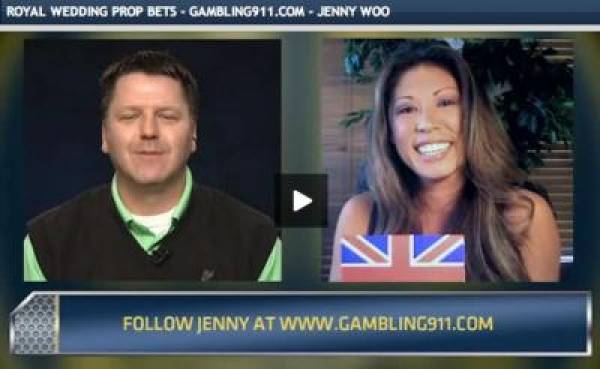 With news on Tuesday that guests of the Royal Wedding are not to show up in white or ivory, experts speculate the rationale behind this policy involves conflicts with bride Kate Middleton's wedding dress color. 
Indeed, ivory was the small favorite at Bookmaker.com and Don Best TV host Pat Williams was quick to point out during his bi-weekly segment with Gambling911.com's own Jenny Woo that oddsmakers there may have gotten an "inside tip".  So much for Jenny's "goth" pick on a black wedding dress (40/1 odds).  (Watch the video segment featuring Jenny Woo here)
The order not to wear white was part of a 22-page "etiquette guide" sent out by the Palace on Tuesday.  Those colors are reserved for the bride.  Alas, reservations are made to be broken!
Kate is keeping her wedding gown pick a deeply held secret from Prince William…and presumably the press.  The guide itself could be a ruse. 
The Telegraph calls her plan "a cloak-and-dagger operation worthy of a Dumas plot," reporting that three different dresses are currently being commissioned. 
Tuesday's announcement prompted Bookmaker.com to temporarily take down its Royal Wedding odds.  Below we have published the odds coming into Tuesday. 
COLOR OF KATE'S WEDDING DRESS

22776

IVORY

-120

22777

WHITE

+150

22778

CHAMPAGNE

+500

22779

CREAM

+600

22780

PEARL

+1600

22781

VANILLA

+1600

22782

ALMOND

+1650

22783

GREY

+1650

22784

GOLD

+1650

22785

LILAC

+1650

22786

SILVER

+1650

22787

POWDER BLUE

+2000

22788

ECRU

+2000

22789

EGG SHELL

+2000

22790

LEMON

+2500

22791

FAWN

+2500

22792

BEIGE

+3000

22793

PINK

+3000

22794

NUDE

+3000

22795

BROWN

+4000

22796

BLACK

+4000

22797

YELLOW

+4000

22798

GREEN

+4000

22799

RED

+4000
- Alistair Prescott, Gambling911.com
As always, you can Follow us on Twitter for all the latest breaking gambling news. (around the clock gambling news)