Betting on the 2009 Nathan's Hot Dog Eating Contest a Hit
Published on:
Jul/01/2009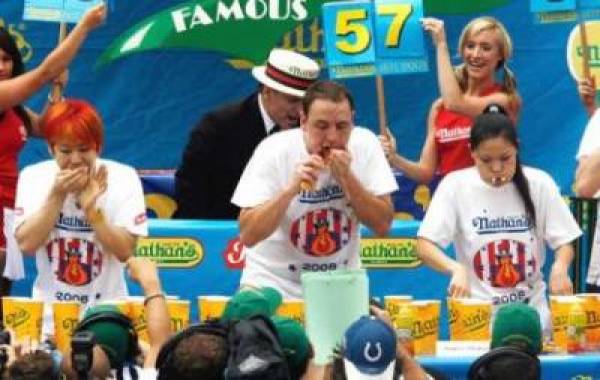 Early numbers suggest that betting on the 2009 Nathan's Hot Dog Eating Contest is drawing a substantial amount of interest, and we are still a few days away from the big 4th of July event.
"Traffic has soared in recent days related to the 2009 Nathan's Hot Dog Eating Contest," proclaimed Payton O'Brien of Gambling911.com.
And more online gambling companies have begun to offer betting odds on the event.
BetUS.com is the latest to do so though they were one of the originals to offer wagering on the famous hot dog eating event.
At press time, they were only offering betting on the OVER/UNDER 62 ½ hot dogs eaten.
Joey Chestnut and Takeu Kobayashi are pretty much the only true contenders in this event, with Chestnut only a slight favorite at those online gambling companies offering odds on the two food warriors.  Chestnut has won the past two years through Kobayashi had won several consecutive years prior to that.  Kobayashi is rumored to be heading into retirement after this year.
"There are things about eating that I will miss - the sandwiches, the hard-boiled eggs, the satisfying feeling you get after replenishing your body's nutrients, and especially the fried dumplings," Kobayashi said. "And there are certain things about eating I won't miss - mostly the hot dogs."
There are rumors that his passion for the event has waned, perhaps the reason why BetUS.com doesn't offer odds on Kobayashi and Chestnut.
Jordan Bach, Gambling911.com