Odds Boost for Colorado Buffaloes as BetOnline Launches 'Prime Day' for 24 Hours
Published on:
Sep/21/2023
A cleverly concocted marketing campaign could end up backfiring for one online sportsbook.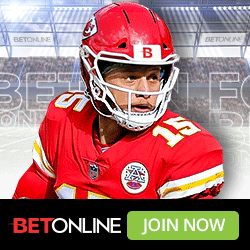 On Wednesday night, BetOnline.ag launched "BetOnline Prime Day" as a nod to Amazon's deals day and a play on the biggest story in football this season...Coach Prime.
Instead of discounted products, for 24 hours BetOnline is offering great deals (boosts) on Colorado Buffaloes futures and prop bets.
The "featured deal" is what has the sportsbook's traders sweating as it isn't your average boosted bet.
BetOnline decided to increase Colorado's CFP National Championship from 100/1 to 500/1, which has attracted thousands of bets and created a massive liability.
"For the record, the trading team was not in favor of this marketing tactic," Adam Burns, Sportsbook Manager at BetOnline.ag, said. "Colorado was already our biggest loss in terms of futures, and now we're giving players even more value so the red number is just getting better. Please, please, don't come and bet on our Prime Day odds."
While exact figures were not disclosed, Burns said that the liability on Colorado winning the title was already in the millions and that this campaign could push it to eight figures.
Here's the breakdown of the Prime Day boosts being offered:
Colorado CFP Championship - 100/1 to 500/1
Colorado Pac-12 Championship - 25/1 to 35/1
Colorado Season Win Total - 6.5 wins to 6 wins
Shedeur Sanders Heisman - 16/1 to 28/1
Shedeur Sanders Passing Yards vs. Oregon - 330.5 yards to 310.5 yards
Xavier Weaver Receiving Yards vs. Oregon - 93.5 yards to 83.5 yards
Jimmy Horn Jr. Receiving Yards vs. Oregon - 75.5 yards to 65.5 yards
Prime Day odds can be found here: https://sports.betonline.ag/sportsbook/futures-and-props/ncaaf-specials/prime-day
BetOnline is also reporting that 99% of the moneyline bets in the Colorado-Oregon game are on the Buffaloes. The moneyline has dropped from +675 to +650.
In other Buffs news, former college football quarterback Danny Kanell answers questions about Colorado recruiting, odds and more.
Additionally, former West Virginia and NFL defensive back Adam "Pacman" Jones gives his very raw take about the hit Henry Blackburn put on Travis Hunter.
If you are able to use this information, please consider citing the source. Thanks for your time, and please let me know if you have any questions.
PACMAN
BOL: What do you think about the hit on Travis Hunter?
Pacman: I love it. Prime...everybody in Colorado know(s) what I stand for, but, bro, he actually didn't hit him hard enough. If you're going to hit him, get his ass. That was a weak-ass hit if you ask me. Give me that free shot and see if he's getting up. No way he'd be able to get up. First of all, he was too high...you hit him in the chest. You should've hit him in the ribs. Hit him in the ribs and he can't breathe for 3-4 plays and maybe you have a broke(n) rib...he's out for the game. But I like the hit.
KANELL
BOL: We put up odds for Colorado recruiting ranks (2024 and 2025) and transfer portal ranking (2024), can you talk a little bit about the impact Deion and his brand/exposure has on bringing players into a program that no one has really wanted to be in for the past two decades?
Kanell: Colorado took a big risk when they brought in Deion, but it knew the reward could be huge. But I don't think in their wildest dreams they thought the return on investment would be this huge. The first 3 weeks of the season have been a free infomercial for the university that other schools would pay tens of millions for. And because of it Colorado is becoming a prime destination for high schoolers and for transfers alike. 
BOL: We just boosted Colorado's national championship odds to 500/1 for BetOnline Prime Day! If you were an oddsmaker, what would you put the Buffaloes "true" odds at?
Kanell: I don't think the Buffs have any legitimate chance to win the national championship this season. But this should not be taken as an insult. There are really only about 10-12 programs that can win it all. The difference in those 10-12 programs? Along the offensive and defensive lines. But trust me, Deion and that coaching staff will address that issue this offseason and I would not be surprised at all if Colorado is one of those elite programs that can contend in 2024 - as long as Shedeur returns to Boulder! 
BOL: The Buffs opened as 13.5-point favorites at Oregon a few weeks ago, now they are getting 21 points. Can Colorado cover the spread? Can they win and cash a +650 ML?
Kanell: The story of this team has been the feel-good story of the season so far. But all good things must come to an end. Unfortunately, I think the Buffaloes will come back to earth this weekend in Eugene. Colorado has been allowing over five sacks a game while Oregon has given up only one sack on the season. The Ducks have too much of an edge in the trenches. I like the Ducks to cover, but I have a feeling I could be sweating a backdoor cover in the fourth quarter!