Can I Use Cryptocurrencies Like Bitcoin to Open an Online Betting Account From California?
Published on:
May/28/2023
Whether its sports betting, casino games, horse racing, even eSports, if you live in California or happen to be visiting the state and wish to start gambling online, BetOnline will welcome you with open arms just as long as you're at least 18 years old and have access to a computer or smart phone.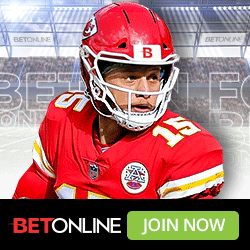 Cryptocurrencies Are Welcome
While BetOnline offers a wide range of funding methods, opening your account with Bitcoin and other cryptocurrencies really is the best way to go.
Though it may be intimidating at first, once you start betting with cryptocurrencies, there really is no turning back.  The convenience is something that is difficult to replicate.
Attention Bitcoin player, we've got something for you! | BetOnline All A... https://t.co/olvYhPYpjE via @YouTube

— gambling911 (@gambling911) May 28, 2023
BetOnline's most generous welcome bonuses are through use of Bitcoin.  They offer a 100% promo up to $1000 of what you open your wagering account with.  For example, if you were to open your betting account with $1000, you'd receive an additional $1000 to bet with.  If you open with just $100, you'd receive an additional $100 to bet with.  Wagering requirements do apply. 
Keep in mind that, unlike many of the US regulated sites, a single account gets you access to all sports betting, political and novelty betting, horse racing and the live dealer casino.  You do not need multiple accounts nor do you need to supply a social security number.  BetOnline will NEVER report your winnings. 
Cryptocurrencies like Bitcoin are an attractive alternative in that they provide anonymity and transparency. 
For first timers, you'll want to upload one of the countless number of digital wallets.  Next you will open an account with one of the big name cryptocurrency exchanges like CoinBase.  You will tie either your bank account or credit card info to this exchange.  Typically the exchange verifies your bank account through a micro transaction (maybe 6 cents).  It's no different than how you have your bank and/or credit card tied to other platforms.
Ready to open your wagering account?  You will do so by supplying BetOnline with a unique address found within the exchange once money is transferred from your bank account or credit card. DO NOT SEND DIRECTLY TO THE GAMBLING SITE FROM THE EXCHANGE.  You will be sending to your digital wallet (for privacy and security purposes) then copy the unique address and transfer the funds to the gambling site.  The entire process typically takes just over an hour if you do not already have funds in your wallet.  If you do have digitally currency in your wallet, the process is nearly instant getting money onto the gambling site and into your wagering account.
When ready to request a payout, you'll follow the same steps only you'll be sending an address found in the RECEIVE portion of your wallet and exchange.
We always recommend moving funds within an hour out of the wallet then out of the exchange and into your bank account and/or credit card within an hour as the price of Bitcoin does fluctuate.
One important note:  Think of the exchange as being similar to that of a currency exchange when traveling to another country.  Your Bitcoin hits the exchange.  But before you can transfer to your bank account, you'll need to click on the SELL link.  This takes approximately 20 seconds to convert your Bitcoin into your currency of choice (i.e.US dollars, euros, etc..).
It's also important to understand that it is possible to convert $50 into Bitcoin.  A single Bitcoin today might be valued at $30,000.  So that $50 is equivalent to pennies on the dollar.  $100, for example, would be represented as 0.003673 BTC. 
The BetOnline website features video tutorials to learn more about funding your betting account with Bitcoin.
- Aaron Goldstein, Gambling911.com