Can I Bet Sports, Politics Online With Betonline From Virginia?
Published on:
Sep/06/2023
BetOnline has been taking bets from Virginia residents since 1999 and continues to do so.  The company holds an international license and is widely considered to be among the top five largest online sportsbooks in the world.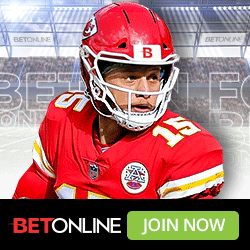 The sportsbook is not regulated by the Virginia Lottery and therefore allows those 18 and up to place bets on everything from sports to politics to horses to eSports.  They even offer a live dealer casino and poker room.  BetOnline also does not require customers to present a social security number when joining and, because they are licensed internationally, does not report your winnings.
But the best part of wagering online with BetOnline in Virginia is the ability to place bets on in-state schools.  Regulated VA sites like DraftKings, FanDuel and BetMGM prohibit betting on games that feature the likes of the Virginia Cavs and Virginia Tech Hokies.
Below you will find the latest updates on your favorite VA college football teams.
Virginia College Football Futures - Total Wins 2023
Liberty Over/Under 9.5 (Over -165)
James Madison Over/Under 7.5 (Over -140)
Virginia Tech Over/Under 5 (Over -115)
Virginia Over/Under 3 Over/Under 3.5
Week 2 Preview
Virginia Tech
The Hokies come in as a -3 home favorite against Purdue this week.  The line range has been Virginia Tech -1 (opening) to -3.
Grant Wells threw three touchdown passes and rushed for a score to lead Virginia Tech to a 36-17 season-opening win over Old Dominion on Saturday night.  He also completed 17 of 29 passes for 251 yards.
"We're pretty levelheaded," Virginia Tech coach Brent Pry said. "We're not going to get too high or too low. We didn't do that last year, and we certainly could have. We'll enjoy the win, and there will be some light-hearted moments before we get into the film (Sunday), but there will be plenty to correct and plenty to work on. We still have a pretty long way to go to be the team that we can be."
Virginia Tech was coming in at No. 78 on the Sagarin Ratings (70.28), two notches below Purdue (No. 76, 70.89).  The 2.90 home field advantage gives us a line of Virginia Tech 2.29.  We opened with a 1-point underlay and the -2 to -3 is more on the money.
Last year's Gambling911.com model suggests Virginia Tech comes into this one with an edge in terms of covering the spread.  Underlays that stayed at 3 or below in our sampling went 8-1.
Liberty
The Flames were mostly a -10.5 favorite against New Mexico State this week as the host.  They beat Bowling Green last week by a scoreof 34-24.
Liberty was ranked No. 100 on Sagarin (63.28).  New Mexico State was ranked No. 149 (53.25).  We arrive at a line of 12.93, suggesting an underlay of 1 to 2.5 points as the line opened at 11.5 and dropped to 10.5 by midweek.
Liberty would tend to have the slight edge here based on last year's Gambling911.com model.
James Madison vs. Virginia
The line here was Dukes -6.5, moved up to -7.5 and down to -5.5 by Wednesday.
- Ean Lamb, Gambling911.com