James Packer 'Very Clever' TV Raid Says Sen Stephen Conroy
Published on:
Oct/25/2010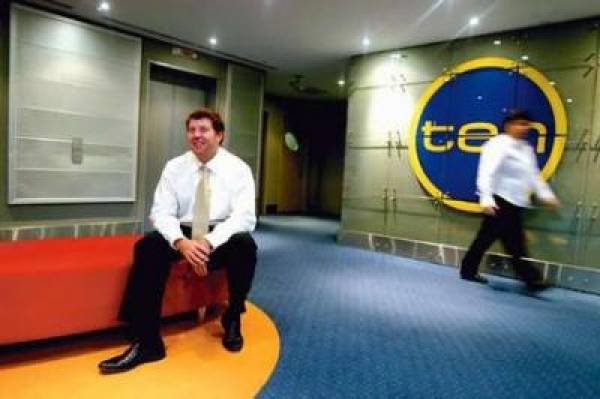 G'day punters, casino and media billions, those who aspire to be, journalists, politics and one and all. Australian and Asia Pacific gambling and lifestyle king, James Packer, is gaining powerful support in his expanding his empire, with a Network Ten share raid appearing to be a key focus. The move continues to have the attention of the world's casino and media billionaires, and even the Australian Communications Minister Sen Stephen Conroy has been drawn into the excitement, with a rare public comment on friend of sorts, Packer, and no, it didn't take a spot of golf this time around to get the senator to go on record with "Very Clever". Media Man http://www.mediamanint.com and Gambling911 reach out to you, the loyal and passionate readership with our "very clever" report...
Australian gambling and lifestyle 'king of the castle', James Packer is officially "very clever", at least that's the word from Australian Communications Minister, out friend and yours (satire), Senator Stephen Conroy. The Packer leap sets him up to be one of Australia's, if not the world's, kings of mainstream media. Packer has jumped on (in a smart and friendly fashion) Network Ten in a massive $245 million share raid that also sets him up for next year's AFL broadcast rights, and much more. The move is an exciting return for Packer as one of the Australian media's heavyweights some 4 years after he started selling off his family's famous share in PBL Media, including the main event attraction, the prestigious Nine Network. Analysts now expect the move will spark more maneuvering and "fun and games" in the industry by competitors ahead of key changes to Australian sports broadcast laws, notably the anti-siphoning regime that restricts pay-TV's shadow. Communications Minister, you're friend and ours (satire) Stephen Conroy previously said the purchase of Ten shares was a matter for Packer. Media and gaming insiders have noted its great to see Conroy stop attacking the gaming and media sector, and be balanced and non confrontational once again. Just maybe Conroy may like the fact that Australian television is easier to censors and "filter" than the internet, but that's only speculation.
Ok, we know Packer is a smart cookie and made a "very clever move", but let's dig a little deeper shall we.
'Our James', son of the late gambling and media mogul Kerry Packer, has been named as the mystery buyer of a A$250 million (S$318 million), 18% in Ten Network, one of Australia's 3 major commercial stations. Currently before the famed antitrust watchdog...Woof, Conroy said the investment posed "some issues around competition and concentration".
"But I think James is a very, very savvy businessman and this is a very clever move,"  Conroy told ABC TV. "I think he's got a foot in all the camps and he likes to have all the bases covered.".
Conroy declined to comment on whether he regarded Packer's stake as constituting a controlling interest in Ten, but said it was "clear... (he) has got more support than just his own holding from all indications." Regulators faced a 'real challenge' in deciding whether or not the move was anti-competitive, he added.
Packer has casino and gaming - gambling - sports betting interests in Australia and Macau but his company Consolidated Media Holdings also holds a 25% stake in pay-TV provider Foxtel and also owns 50% of the Fox Sports cable network. Fox Sports is also tied in with Premier Media Group, where some Media Man top brass once did some work experience. He effectively walked from commercial television 2 years back with the sale of most of his stake in rival Network Nine, an empire founded by his grandfather, Sir Frank Packer, and built up by his late father, Kerry. Packer said he had been lured back to the industry by the surprise success of extra free-to-air channels launched on the new digital spectrum by the major networks, saying he was "happy to be back".
"It's a vote of confidence for free-to-air television," Packer told News Limited - Rupert Murdoch owned The Sunday Telegraph newspaper, in his first public - on the record bit about the Ten share raid. "Multi-channels have surprised everybody with their outstanding success to take advertising dollars from other mediums while pay-TV stays strong."
Since the announcement of Packer's raid on Ten, both Network Ten and Crown Limited shares have continued an upward rise.
Media Man top brass added "James Packer surprises a few folks with his move back into television, Mind you, he surprised a few with his massive bounce back in the casino and gaming sector in Australia and Macau also, as well as his solid exit strategy from the mayhem Las Vegas. Watch for Packer to also ramp up in the online area, with Betfair maintaining a strong position. More online casino game content to hit Betfairs, and I would be totally surprised to see the likes of a Packer do a deal with other leaders like PartyGaming or Richard Branson's Virgin. Packer is friendly with Tom Cruise, featured in a PartyGaming release, and has also been spotted and photographed with Richard Branson over the years, so nothing is impossible for JP - James Packer at this stage of the game. He appears to have the killer instinct and is virtually unstoppable. You really have to give the devil his due. At the same time he is main tainting his friendship with Network Nine boss David Gyngell, so good on his for taking care of the work - life balance, something many media and gaming tycoons struggle with. Packer is starting to turn into a living legend, and we are not talking that up. The record speaks for itself. For anyone that wants to try to step in Packer's way, its game on.!
The Packer camp is expected to make more information available to the press in the coming days, and rest assured Media Man and Gambling911 are onto it.
More details on the Packer - Network Ten Raid...
Packer's Consolidated Media Holdings purchased the 15.6% stake in the network through investment bank UBS, a favorite of JP. A block of some 163.3 million Ten shares was traded in a single transaction at $1.50 a piece, according to the Australian Securities Exchange. Packer mate, David Gyngell, recently purchasing a modest $100,000 or so worth of Crown Limited shares. Numerous in the know sources, leaks et al continued to confirm Packer's company was indeed behind the sale.
The move also comes amid heavy speculation Packer is planning to privatise his gaming empire, Crown Limited, in which he has also recently increased his stake, leading by example, say the Packer supporters. Packer and Kerry Stokes began wrestling for Consolidated Media, which holds online and pay television assets in the middle of last year. The move got people talking about Packer moving into position ahead of the next round of AFL television rights that are up for grabs in 2011. They do say the early bird catches the worm, so Packer might be feeling a like a very confident worm as of late. CMH currently also owns a 25% stake at pay TV operator Foxtel.
BBY media analyst Mark McDonnell was prepared to go on record and advised the purchase put Fox Sports into a strategic position for the AFL rights. "It's very interesting, particularly with the AFL rights coming up again next year and, of course, Ten teamed up with Seven and Fox Sports the last time the contract was being renewed. Packer effectively owns Fox Sports and the AFL rights are going to be one of the big stories over the next 12 months." McDonnell said CMH may have also "simply" thought Ten's shares were going for a good price and Packer may have seen potential in the network's future. However he also said every free to air channel wanted the football broadcasting rights and the move positioned Ten into a strong position to again team up with Foxtel.
The purchase also coincides with the Gillard Government's review of anti-siphoning laws governing sports broadcasting on Australian television. Both Foxtel and the AFL have been lobbying for changes to the anti-siphoning legislation so pay-TV stations can bid for a minimum of 4 home-and-away matches a week. Packer is surrounded by media and sports on the home front, owning a pad overlooking Bondi Beach, world class pro surfers, favorite of NRL Sydney Roosters, mate Gyngell, the Bondi Rescue (Network Ten inked lads), and much much more. Yeah, Media Man has a pad there too, and Bondi Beach is constantly becoming home to Australia's best entertainment and sporting talent. Warnie, are you here yet mate? Poker in the beach park perhaps or a few slots at Bondi Icebergs Bergs Gaming? Changes to the anti-siphoning legislation could allow the 3 big free-to-air networks to broadcast AFL matches on their digital channels and AFL games on their secondary digital channels.
Senator Conroy's spokesman said the anti-siphoning review would be released "shortly". Network Ten declined to comment, while Media Man said "coincidences don't normally happen, be it in gambling, media or the internet business. Packer is smart and clearly his relationship and lines of communication with Sen Conroy are excellent, so you have to give the devil his due." A number of high profile media and gaming commentators also think its a smart move by Packer ramping up his TV interests, and industry talks says of Packer...fire in the belly, and his passion for news media has certainly bounced back. Insiders also tipped he enjoys seeing the balanced and positive coverage of his Crown Casino empire on Ten News and The 7PM Project, giving him a fair go, when some other Australian media companies choose to go more down the "attack journalism" path.
Packer also has plans to offer Australian's a full online casino offering via his 50% owned Betfair, which have noted the success of other online gambling operators servicing down under such as PartyGaming. Interestingly, PartyGaming's PartyPoker last year in a b2b type arrangement directed a number of their online poker players to Packer's poker tournament, Aussie Millions. Packer mate, Shane Warne, is also tipped to have a poker room and / or tourney named after him at Crown Casino, and its speculated other deals are on the radar with even some tipping Media Man, Casino News Media, Richard Branson - Virgin b2b and website portals in the mix. PartyGaming and NextGen Gaming are expected to also pitch to Packer and his team on the new media - internet front, and the brands 'Underbelly', 'Kerry Packer' and 'Casino Jack' keep coming up. Yep, Packer is a busy man and taking on the world and winning by all accounts.
A Media Man spokesperson added "James Packer's latest business plays have been brilliant. It's risk management, brand building, convergent media, relationship leveraging and more all in one. He's also buying entities at the right price, and has a global business model which helps ride out the world's financial storm, while also having an Australian - Asia Pacific focus, which is one of the strongest markets in the world at the moment, away from the chaos of sorts in Las Vegas and Atlantic City. From here on up it should be pretty smooth sailing for Packer and Billionaire Inc. Punters should likely expect some gambling or gaming reality TV shows, as Packer's passion for both having a punt and news media is pretty contagious. Packer is making exciting and smart business moves and has a world class team of advisers around him. He's also spending millions upgrading Crown and Burswood casinos, to help further cement them as the leaders, while Tabcorp tries to chase him with their Star City. Packer once again proves the knockers wrong, and we can't wait to get back down to Crown Casino to congratulate the Packer powers that be in person. From Bondi Beach to Palm Beach, Macau, Perth, the internet, to TV land - the world is his oyster. Watch this space".
Wrap Up...
Readers... er, punters, what's your view on the latest? Keep checking daily for updates. If you have a bet, please bet with your head, not over it, and for God's sake, have fun.
Crown Limited Share Price: $8.530
Network Ten Holdings Limited Price: $1.61
*Greg Tingle is a special contributor for Gambling911
*Media Man http://www.mediamanint.com is primarily a media, publicity and internet portal development company. They cover a dozen industry sectors including gaming and offer political commentary and analysis.
*The writer owns shares in Crown Limited