Why RealBookies is Among the Best Pay Per Head Companies
Published on:
Jan/09/2019
RealBookies is widely considered to be one of the best Pay Per Head companies in the industry.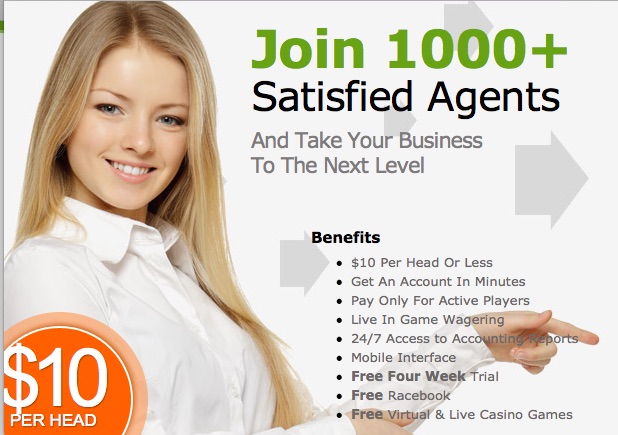 Why RealBookies is Among the Best
Advantages include paying $10 or less per customer per week, paying only for active players and gaining access to a free virtual casino with live dealers.
It should be noted that RealBookies does have packages starting at $7 per head.
One aspect that makes RealBookies among the best pay per head companies is the ability to let prospective clients test drive the platform.
From RealBookies.com:
"It is extremely important for agents to gain a proper feel for a price-per-head organization, especially if they are a smaller operation.  Real Bookies allows agents to do just that by offering them a four week free trial."
Another edge RealBookies has over some of its competitors is the ability to offer live in-play wagering.
Live Betting Explained
In live betting the name says it all, as you are betting on a football game live as it actually happens. The odds of the football game will change depending on what is happening in the game. For example, if the Patriots are a 6-point favorite over the Steelers and they jump out to a 14-point first quarter lead the spread will increase accordingly.  You will now be able to bet on the adjusted spread with the game already underway. The football spread, as well as totals, will change throughout the whole game and you have a more time to make those bets during halftime and after the 1st and 3rd quarter.
Maybe you have been watching a game and said I should have laid some green on the Packers. Well, with live betting you can do that betting on the game as it unfolds. Live betting is also a good option if you want to get a feel for the game before you make a wager. Let your players know about the live betting option and how it can be a good way to make some money, with you doing so as well, as they can make a wager while the football action is going on.
The Agent Advantage For Live Betting
The main reason that live betting is good for an agent at RealBookies.com is that it simply gives your players another betting option. The more betting options they have the more bets they can make. In turn the more bets made the more juice for you and the more money you will make. Considering that agents make a percentage of every single bet made the more your players know about the football bets that can be made, which includes live betting, the more advantageous it is for you.
- Jagajeet Chiba, Gambling911.com