If you are a bookie, who thus far should be profiting from this year's March Madness, the Michigan vs. Oregon Sweet 16 game will be the one that has you on edge Thursday night.

Our friends at AcePerHead.com are reporting that their bookmaker clients overwhelming have some 60 percent of the action coming the Wolverines way. 
"With heavy volume, that 60 percent amounts to some serious exposure," notes Don Shapiro of Gambling911.com.
In Vegas, William Hill was reporting nearly 65 percent of tickets written for Michigan on the spread and 63 percent of volume wagered.
AcePerHead.com is encouraging its books and agents to push for the LIVE IN-PLAY WAGERING as a means of helping to cut losses should Michigan walk off with the win.  Technically there was no spread on this game as most books offered either the PICK'EM or Oregon +1.  The later line would result in a push should Michigan win by one point.
Scroll Down For More…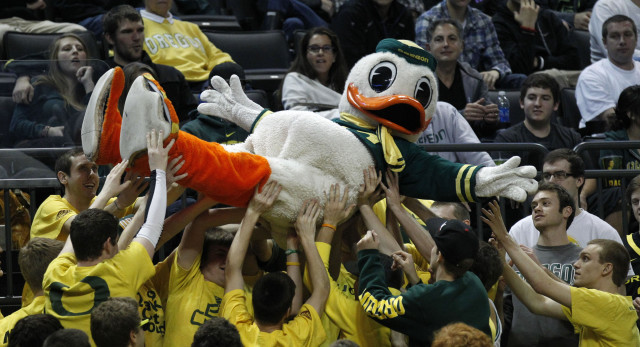 Ducks in hunt for second NCAA Men's Basketball title after getting their first nearly 80 years ago
Instead of moving the line further in Michigan's favor, books have opted to tease with the 1-point line, suggesting they do maintain an opinion on Oregon covering.  The line on this game had moved as high as -2 in favor of the Wolverines.  Books appear content with just 40 percent of the action on the Ducks.
After all, Oregon does have a more solid record Against The Spread this season (20-15 compared to Michigan's 17-17).
MSU has gained late momentum, however, covering the spread in six of their last seven games and winning nine of ten outright.
While the Ducks have won nine of their last ten as well, they only covered in half of their last ten.
The public has fallen in love with the Wolverines, especially in the wake of a plane crash earlier this month that left some on board with minor injuries and everybody rattled.
"They are a team with a lot of momentum right now, but hopefully we can slow them down," Oregon senior guard Dylan Ennis said of Michigan. "You are going to play teams that are up and teams that are down, but when you step on the floor, who you played before will not help you in those games now."
"Oregon has talent at every position," Michigan 6-foot-11 sophomore forward Moritz Wagner said. "It is going to be a tough matchup, if not our toughest so far this season."
Oregon is looking to win its first championship since 1939. The basketball team has appeared in the NCAA tournament 15 times since that time, winning the conference championship on six occasions.
Michigan has one NCAA College Men's Basketball championship as well (1989) and has appeared in fifteen Sweet Sixteens including four of the past five years.
- Tyrone Black, Gambling911.com