The Washington Nationals odds to win the 2013 NL East were at EVEN at Sportsbook.com, which was offering a FREE $100 BET to new signups here.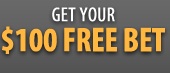 The Nationals odds of winning the 2013 World Series were coming in at 10/1.
Also in the NL East, Atlanta had odds of 2/1 while Philadelphia was at 3/1.
The New York Mets were coming in at 20/1 while oddsmakers don't think the Miami Marlins stand a chance at 100/1 odds of winning this year's World Series. We don't blame them!!!
Some key offseason additions suggest the Nationals will have a highly successful season in 2013. KEY OFFSEASON ADDITIONS: Denard Span (OF), Dan Haren (RHP), Rafael Soriano (RHP).
Gambling911.com has your Stephen Strasburg Fantasy outlook below.
Fantasy Baseball Outlook:
1. Stephen Strasburg (24 years old), Washington Nationals
• 45 career starts 
• Career bests: 15 wins, 3.16 ERA, 197 strikeouts, 1.15 WHIP in 159 1/3 innings 
• Upside: 24/2.20/300/1.000 in 215 innings
This season the monster is going to be let out of his cage. While the Nationals have one of the best bullpens in baseball, no reliever they consider in the seventh or eighth inning will be as intriguing as Strasburg himself. If they truly stick to their word to not hold him back, a healthy Strasburg should end up at 200 innings after 33-35 starts. He has pitched 251 1/3 innings total as a major-leaguer, but he's good enough to reach that level in one season -- although the Nats would never allow that. In those innings, he has won 21 games and struck out 313 batters. Strasburg is going to rate a premium pick -- he's the No. 1 starter in SI.com's Top 300 -- but wherever he gets picked, he is going to provide great value. After that bitter shutdown he endured last August, watching his Nats fall in the postseason, you just know he's motivated to take it out on his opponents this time around.
Source: Sports Illustrated (SI.com)
- Dan Shapiro, Gambling911.com