The Philadelphia Phillies vs. Cincinnati Reds betting line was listed at Philadelphia -177 and Cincinnati +167 with an UNDER of -120 at Sportsbook.com
After taking the opener of their four-game series Monday night 3-2, the Phillies will look to expand on their MLB-best record with another win over the Reds Tuesday. The Reds, on the other hand, will look to tie the series at one apiece and avoid falling under .500, currently sitting at 67-67.
The Phillies send ace Roy Halladay to toe the rubber, always a good sign for the Philadelphia faithful. The Phillies have lost his past two starts, but overall are a staggering 20-6 (+9.5 Units) when he's on the hill this season. The Reds will try to scrape some runs off him and hope Bronson Arroyo can continue with his hot hand (1.80 ERA in past three starts) to guide them to victory.
The Phillies are 78-38 (67%) when favored this year and have won 66% (19-10) of their games against NL Central opponents. They are 17-5 against the Reds over the past three seasons.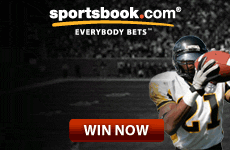 Something to watch out for Tuesday night is the potential for a low-scoring affair. The over/under for the game is set at eight, but both pitchers are on impressive hot streaks that could easily keep it under that total.
The perennial Cy Young candidate Halladay (15-5, 2.56 ERA) continues to excel and pitch deep into games, lasting at least seven innings in 20 of 26 starts, including seven complete games. He was most recently scheduled to pitch this weekend, but the start was moved back due to Hurricane Irene. In 11 starts where he has more than five days of rest this year he has pitched four complete games. Halladay is 1-1 with a 3.03 ERA despite a .297 opponents' BA in five regular-season starts versus Cincinnati.
Arroyo (8-10, 5.02 ERA) threw a gem his last time out, allowing no runs over eight innings against the Marlins, giving up six hits and no walks. He has pitched six or more innings in nine straight starts dating back to July 6, but Wednesday's win in Florida was his only victory. Arroyo has been dreadful in his career against the Phils, going 1-6 with a 7.13 ERA and 1.68 WHIP against them. When he pitched in Philadelphia on May 23, he allowed 10 hits and nine runs in just 2.2 innings.
NEW YORK YANKEES (80-52, +7.8 Units) at BOSTON RED SOX (82-51, +8.3 Units)
Sportsbook.com Line & Total: New York -136, Boston +126 & 9.5 over -115
In the battle for supremacy in the AL East, the Red Sox hold 1½ -game lead over the Yankees as the two powerhouses start up a three-game series Tuesday night. New York enters the series in a bit of a rough patch, having only won four of its past nine, while the rivals from Boston have won five of six, including three victories over the Rangers.
The Yankees are the sizable favorites in this game with CC Sabathia taking the rubber against the woeful John Lackey. Sabathia has had a rough month of August (4.95 ERA), but he's still been than Lackey (5.34 ERA in August). The biggest question for the Yankees entering this series is who can actually play for them, with Alex Rodriguez likely out for the series due to a thumb injury and Derek Jeter day-to-day with a knee contusion.
Something to watch out for Tuesday night is how the MVP candidates fare in this game. For the Yankees, Curtis Granderson is certainly in the conversation while for the Red Sox Adrian Gonzalez, Jacoby Ellsbury and Dustin Pedroia will all receive votes.
Sabathia (17-7, 2.99 ERA) has been amazing all year, although his production certainly slowed in the past four starts (three Yankees losses) with a 5.72 ERA. He has allowed 9+ hits in four of his five August outings. He has also been dreadful against the Red Sox this year, losing all four starts. He has allowed 20 runs and 43 base runners in 25 innings against them, for a 7.20 ERA and 1.72 WHIP.
Lackey (12-9, 5.98 ERA) has been one of the worst starters in baseball this season to remain in a contending rotation. The bad news is that he has shown no signs of picking it up, with a 5.12 ERA and 1.60 WHIP in his past three starts. In addition, he has struggled against the Yankees this season with a 7.36 ERA in two starts, although he won both of those games. Get ready for a slugfest on Tuesday.