Teammates are the favorites to be mentioned first no matter who the Super Bowl 56 MVP might be, so say the oddsmakers who have Teammates coming in at -125.  God follows at 2-1 odds.
God has great value here.
Joe Burrow of the Cincinnati Bengals, second shortest odds to be named the Super Bowl 2022 MVP, is a devout Christian.
Faith matters.  Just ask Joe.
Or better yet, ask Pastor Mike Haman of Louisiana.
"God wrapped himself in flesh," Haman said. "The story of Christmas is a story of love coming down. I'm so thankful that God didn't just love us from a distance."
Harman is referring to God giving LSU Joe Burrow.
Haman said Jesus showed his love by coming to live among us and illustrated this point through the story of the Heisman Trophy-winning who transferred from Ohio State to LSU two years prior and immersed himself in Louisiana culture.
Now Burrow is in Cincinnati.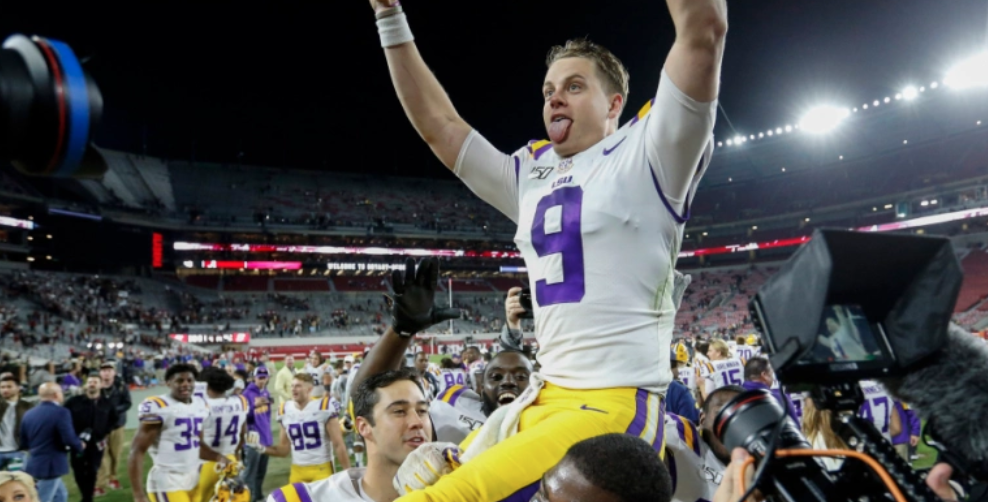 It's been nearly 35 years since the Bengals have played in a Super Bowl.  Over that time, Cincinnati fans tried not to lose faith.  At times that proved challenging.
But God hasn't forgotten Cincinnati.  A Bengals fan even saved the life of a Raiders fan at the start of this year's Playoffs, something you'd never see a Philadelphia Eagles fan do to someone dressed in New York Giants colors.
As for Matthew Stafford, favorite to be named Super Bowl 2022 MVP, one would think it took a lot of praying to get him traded out of Detroit.
Stafford is said to be an intensely private person who stays true to himself and his loved ones.  He's also not particularly religious per se, so don't expect the Rams QB to thank God first.  Instead, Teammates would have value here.
Because this Super Bowl is being played in the Rams home town of LA, City has 5-1 odds.
| Rot | Who will the Super Bowl LVI MVP Mention First in his speech? | Moneyline |
| --- | --- | --- |
| 12051 | Teammates     | -125 |
| 12052 | God or Jesus     | +200 |
| 12053 | City     | +500 |
| 12054 | Family or Family Members     | +600 |
| 12055 | Coach     | +700 |
| 12056 | Owner     | +2000 |
| 12057 | None of the above     | +1500 |
Sun, Feb 13, 2022 EST
| Rot | Super Bowl LVI MVP | Moneyline |
| --- | --- | --- |
| 1001 | Matthew Stafford     | +125 |
| 1002 | Joe Burrow     | +225 |
| 1003 | Cooper Kupp     | +550 |
| 1004 | Ja'Marr Chase     | +1600 |
| 1005 | Aaron Donald     | +1200 |
| 1006 | Odell Beckham Jr.     | +2500 |
| 1007 | Joe Mixon     | +3300 |
| 1008 | Tee Higgins     | +5000 |
| 1009 | Cam Akers     | +2800 |
| 1011 | Von Miller     | +3300 |
| 1012 | Jalen Ramsey     | +6600 |
| 1013 | Kendall Blanton     | +8000 |
| 1014 | Evan McPherson     | +5000 |
| 1015 | C.J. Uzomah     | +8000 |
| 1016 | Van Jefferson     | +8000 |
| 1017 | Tyler Boyd     | +8000 |
| 1018 | Sony Michel     | +12500 |
| 1019 | Trey Hendrickson     | +12500 |
| 1020 | Drew Sample     | +20000 |
| 1021 | Eli Apple     | +15000 |
| 1022 | Sam Hubbard     | +15000 |
| 1023 | Samaje Perrine     | +25000 |
| 1024 | Matt Gay     | +20000 |
| 1025 | Leonard Floyd     | +20000 |
| 1026 | Ben Skowronek     | +30000 |
| 1027 | Eric Weddle     | +20000 |
| 1028 | Chidobe Awuzie     | +30000 |
| 1029 | D.J. Reader     | +30000 |
| 1030 | Tre Flowers     | +30000 |
| 1031 | Vonn Bell     | +30000 |
| 1032 | Chris Evans     | +30000 |
| 1033 | Jessie Bates III     | +25000 |
| 1034 | Trent Taylor     | +50000 |
| 1035 | Troy Reeder     | +50000 |
- Jagajeet Chiba, Gambling911.com