UFC 226 – How The Fighters Currently Stand
Published on:
Jul/05/2018
If you are a true UFC fighting fan Saturday, July 7 will be bringing you something a little bit special. The main event at UFC 226 is the first cross divisional superfine at heavyweight level.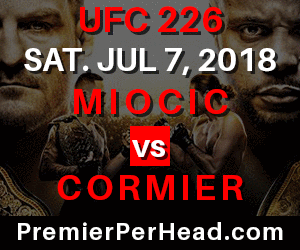 We are going to be seeing Stipe Miocic (the current UFC heavyweight belt holder) take on Daniel Cormier (the current light heavyweight UFC belt holder). While it is only Miocic whose belt is on the line for this particular fight, there is still plenty at stake for both the fighters.
There is no doubt that either fighter stands to be counted as a true great should they win this fight. The rumour mill has been working overtime and some have even suggested that if Cormier cannot overcome Miocic then he may well retire from the sport.
How They Currently Stand
Miocic (+180)
Miocic build his whole game around his first-class boxing skills. He has an extremely long reach where he can continually probe with the jab. However, is well known to have phenomenal power in short punches than most fighters ever have had. Aside from his boxing skills Miocic used to be a D1 wrestler who has taken that skill set and adapted the techniques perfectly for the UFC. Some people say that his weakness is his defensive ability.
Cormier(-220)
Cormier's speciality is wrestling. Himself a former Olympian many consider him to currently be in his best form. The speciality is when he can manage to get his opponents back against the cage as this is when he can work is huge array of takedowns. His calling card is the ability to make his opponents work severely hard just to have a chance at a punch.
Is big disadvantage in this particular fight will be his height and reach compared to Miocic. However, although Cormier is undoubtedly the underdog it would not be all that much of a surprise if he was to beat Miocic and unify the belts.
Where To Watch The Fight
Of course you can watch the fight and pay-per-view channels or pay to stream it directly from UFC.com. However, Premier Pay Per Head will be tweeting a live feed throughout the fight. You can follow along with it by following them at @PremierPerHead.
We have seen immense interest in this UFC 226 fight night and lots of new customers taking advantage of the Federal Law change and our 4 Weeks PPH Free Trial and starting their own online sportsbooks.
Don't forget to follow along with us on twitter and get in touch if you want to get in amongst the action and start profiting from this summer's great sporting events by starting your own online bookies.