Today we look at the spread on the New York Giants vs. Washington Football Team game, or what it should be.  Bet this game at BetAdrian, which offers a NO DEPOSIT welcome bonus of $20/€20.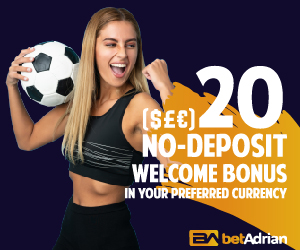 What Should the Spread on the 49ers vs. Eagles Game be?
After Week 1, the Giants are rated 17.93 and Washington 20.91.  Adjusting for home field advantage we get a line of WFT -5.5 to -6 .  The line opened at Washington Football Team -3.5.
Three of the NFC East teams lost, including Washington.  The Giants as well as the Cowboys also lost.  Philadelphia enjoyed a huge win.
For the Washington Football Team it was a 20-16 loss to the LA Chargers. 
Washington lost veteran starting quarterback Ryan Fitzpatrick to a right hip injury midway through the second quarter. Coach Ron Rivera did not have an update on Fitzpatrick and said he hopes to know more about the 38-year-old's status Monday.
"He's in good spirits," tight end Logan Thomas said. "Obviously not real sure what it is yet, but hoping for the best for him."
An MRI revealed that Fitzpatrick had a right hip subluxation, but coach Ron Rivera said he'll see more doctors to determine the severity of the injury and how long he'll be sidelined. He'll have to be on IR for at least three weeks.  A source told ESPN that Fitzpatrick could miss as much as seven weeks.
This leaves Washington with starter Taylor Heinicke for Thursday's game vs. the New York Giants. Heinicke completed 11 of 15 passes for 122 yards and a touchdown Sunday.
As for the Giants, they were beaten by the Broncos at home 27-13. 
Daniel Jones threw a 37-yard touchdown to Sterling Shepard for New York and ran for a 4-yard touchdown on the final play. The third-year quarterback finished 22 of 37 for 253 yards. He also lost a fumble in the red zone with the Giants trailing 20-7 in the third quarter.
The Giants surprisingly have owned this series of late, winning the last five outright.
What to Watch for in the Line Movement
It's interesting to note that some of the sharper books opened this line at Washington -5.  As of Monday night the line was trending downward from -4.
In their game against the Chargers, Washington opened as a +1.5 underdog and closed at -1.5/2 at websites like BetOnline and Heritage.  More recreational books like Bovada closed at +2.5 the final hours before gametime.  Intertops was there around 11 am.  In theory, this should have helped get more action on WFT, which ultimately failed to cover.
The Giants started the week as a +1 home dog and closed at +3 across the board.
Washington Football Team had been seeing around 55% of the early action.
Prop Bets
Giants @ Washington Thu, Sep 16, 2021 EST
| Rot | First To Score | Moneyline |
| --- | --- | --- |
| 3001 | Giants     | -110 |
| 3002 | Washington     | -120 |
| Rot | First Scoring Play Of The Game | Moneyline |
| --- | --- | --- |
| 3007 | Giants TD     | +240 |
| 3008 | Giants FG     | +300 |
| 3009 | Giants Any Other Score     | +5500 |
| 3010 | Washington TD     | +180 |
| 3011 | Washington FG     | +350 |
| 3012 | Washington Any Other Score     | +5500 |
| Rot | Will there be a Defensive or Special Teams TD | Moneyline |
| --- | --- | --- |
| 3013 | Yes     | +225 |
| 3014 | No     | -300 |
| Rot | Double Result | Moneyline |
| --- | --- | --- |
| 3035 | Giants/Giants     | +250 |
| 3036 | Giants/Tie     | +4000 |
| 3037 | Giants/Washington     | +600 |
| 3038 | Tie/Giants     | +1800 |
| 3039 | Tie/Tie     | +4000 |
| 3040 | Tie/Washington     | +1200 |
| 3041 | Washington/Giants     | +800 |
| 3042 | Washington/Tie     | +4000 |
| 3043 | Washington/Washington     | +115 |
| Rot | Race To 10 Points | Moneyline |
| --- | --- | --- |
| 3045 | Giants     | +115 |
| 3046 | Washington     | -150 |
| 3047 | Neither     | +4500 |
| Rot | Race To 15 Points | Moneyline |
| --- | --- | --- |
| 3049 | Giants     | +145 |
| 3050 | Washington     | -140 |
| 3051 | Neither     | +850 |
| Rot | Race To 20 Points | Moneyline |
| --- | --- | --- |
| 3053 | Giants     | +210 |
| 3054 | Washington     | -110 |
| 3055 | Neither     | +320 |
| Rot | Race To 25 Points | Moneyline |
| --- | --- | --- |
| 3057 | Giants     | +400 |
| 3058 | Washington     | +175 |
| 3059 | Neither     | -110 |
| Rot | Race To 30 Points | Moneyline |
| --- | --- | --- |
| 3061 | Giants     | +700 |
| 3062 | Washington     | +280 |
| 3063 | Neither     | -240 |
| Rot | Race To 35 Points | Moneyline |
| --- | --- | --- |
| 3065 | Giants     | +1400 |
| 3066 | Washington     | +550 |
| 3067 | Neither     | -700 |
| Rot | Race To 40 Points | Moneyline |
| --- | --- | --- |
| 3069 | Giants     | +2200 |
| 3070 | Washington     | +900 |
| 3071 | Neither     | -1600 |
| Rot | Win Margin 3-Way | Moneyline |
| --- | --- | --- |
| 3073 | Giants to Win by 6 or More Pts     | +255 |
| 3074 | Washington to Win by 6 or More Pts     | +120 |
| 3075 | Any Other Result     | +180 |
| Rot | Will the Game go to Overtime ? | Moneyline |
| --- | --- | --- |
| 3077 | Yes     | +850 |
| 3078 | No     | -2000 |
| Rot | Highest Scoring Half | Moneyline |
| --- | --- | --- |
| 3079 | 1st Half     | -105 |
| 3080 | 2nd Half     | -110 |
| 3081 | Tie     | +1600 |
| Rot | Highest Scoring Quarter | Moneyline |
| --- | --- | --- |
| 3083 | 1st Quarter     | +500 |
| 3084 | 2nd Quarter     | +185 |
| 3085 | 3rd Quarter     | +450 |
| 3086 | 4th Quarter     | +220 |
| 3087 | Tie     | +750 |
| Rot | Winning Margin | Moneyline |
| --- | --- | --- |
| 3089 | Giants to win by 1-6 pts     | +375 |
| 3090 | Giants to win by 7-12 pts     | +650 |
| 3091 | Giants to win by 13-18 pts     | +1100 |
| 3092 | Giants to win by 19-24 pts     | +2200 |
| 3093 | Giants to win by 25-30 pts     | +4500 |
| 3094 | Giants to win by 31-36 pts     | +7000 |
| 3095 | Giants to win by 37-42 pts     | +10000 |
| 3096 | Giants to win by 43 or More pts     | +11000 |
| 3097 | Washington to win by 1-6 pts     | +300 |
| 3098 | Washington to win by 7-12 pts     | +450 |
| 3099 | Washington to win by 13-18 pts     | +650 |
| 3100 | Washington to win by 19-24 pts     | +1100 |
| 3101 | Washington to win by 25-30 pts     | +2000 |
| 3102 | Washington to win by 31-36 pts     | +3300 |
| 3103 | Washington to win by 37-42 pts     | +5000 |
| 3104 | Washington to win by 43 or More pts     | +7500 |
| 3105 | Tie     | +5000 |
- Mary Montgomery, Gambling911.com