2020 is the year we all want to escape, unless of course you are an online casino operator, run a virtual meeting platform, or food/grocery delivery app.
Goodbye Credit Cards, Hello Bitcoin
Bitcoin and other cryptocurrencies now account for more than 70% of the funding methods of Web gambling sites that cater to the North American market but operate outside the region (i.e. offshore).
But with Great Britain now banning the use of credit cards, cryptocurrencies should soon become a more common method throughout Europe as other countries are soon to follow.
Enhanced Live Casino Experience
Long gone are the clunky live dealer casino products that only a choice few with high Internet speeds could access.
The Olybet website is just one of many that can tap into their own land-based resources to provide a more immersive experience, delivering a Vegas-like casino to one's own livingroom.
Olybet is part of the Olympic Entertainment Group, a leading provider of casino entertainment in Estonia that operates 24 slot machine casinos in Tallinn, Tartu, Pärnu, Narva and Jõhvi.
With the live dealer casino you get exactly that: A live professional, friendly dealer. 
Olybet and other online casinos that specialize in this technology constantly introduce new game variants.
More Mobile Enhancements
Playing casinos on the go will be essential when it comes to growth.
5G is the fifth generation technology standard for cellular networks, which cellular phone companies began deploying worldwide in 2019.
South Korea, China, and the United States are the countries that lead the world in building and deploying 5G technology, and these just happen to be among the world's largest online gaming markets.
Virtual Reality
Virtual reality is only now beginning to transform the online casino landscape.
Features include, but are not limited to, more realistic 3D slot machines, game tables, player interaction, and the ability to walk through a vivid detailed casino floor.
Oddly enough, the global pandemic may be helping to bolster VR technology.  After all, this is one of the few places where the coronavirus does not exist.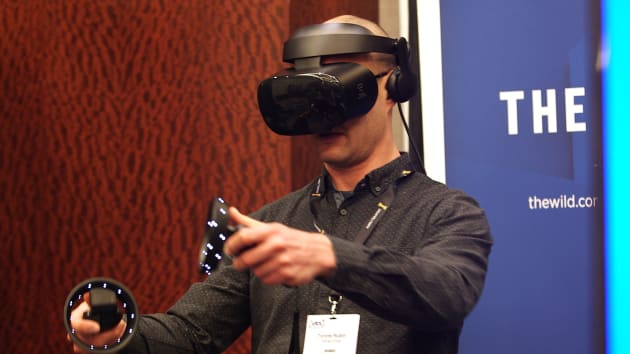 Companies like Spacial has seen a 1,000% increase in usage since March. They developed a VR-version of the popular video conferencing platform Zoom.
Virtual reality used within businesses is forecasted to grow from $829 million in 2018 to $4.26 billion in 2023, according to ARtillery Intelligence.
VR technology does have roadblocks to overcome, privacy fears among them.
"With VR/AR technology we're collecting information that to date has not generally been collected, certainly not in any broad scale," said David Hoppe, author of "Esports in Court, Crimes in VR, and the 51% Attack."
Companies looking to prevent VR sickness might use information obtained to derive psychological responses — gauging sexual preferences, proclivity to violence and degrees of empathy, and not all for altruistic purposes.
"Trying to maintain the privacy of those types of things will be very important," said Darrell West, director of the Center for Technology Innovation at The Brookings Institution, in an interview with CNBC. He noted that, if an individual claimed their expected privacy was breached, they could sue said company depending on their state and/or country laws. The most contentious cases are sure to end up in court. "The problem is that judges aren't trained on emerging technologies," said West.
Internet privacy issues have already been addressed in the online casino sector over the past three years across the European Union resulting in the elimination of highly profitable affiliate programs and fines.
- Aaron Goldstein, Gambling911.com