Bucks come into their Christmas Day game against the Warriors as a 9-point favorite

Draymond Green will be out again for Golden State

Both teams come into this game 0-1
The Milwaukee Bucks open as a -9 favorite Christmas Day with the line quickly moving up to -10.
Bad news for Golden State as they will be missing Draymond Green for this game.
Green injured his foot during a practice last week and had an MRI to make sure the injury wasn't serious. The MRI came back clean, and the Warriors initially listed Green as day-to-day.
The Brooklyn Nets disabled Golden State to open the new season. 
Kevin Durant shook off 18 months of rust in a matter of minutes.
Durant looked good as new against his old team, Kyrie Irving was even better and the Brooklyn Nets emphatically kicked off the Steve Nash era with a 125-99 victory over the Golden State Warriors on Tuesday night in the NBA's season opener.
Milwaukee has the third shortest odds of winning the 2021 NBA Championship with a payout of $550 on a $100 bet.
The Bucks will come into this game having lost their opener to Boston.
Giannis Antetokounmpo couldn't stop Jayson Tatum from knocking down a "tough, tough, tough" shot. Then the reigning MVP and defensive player of the year missed one of the easiest.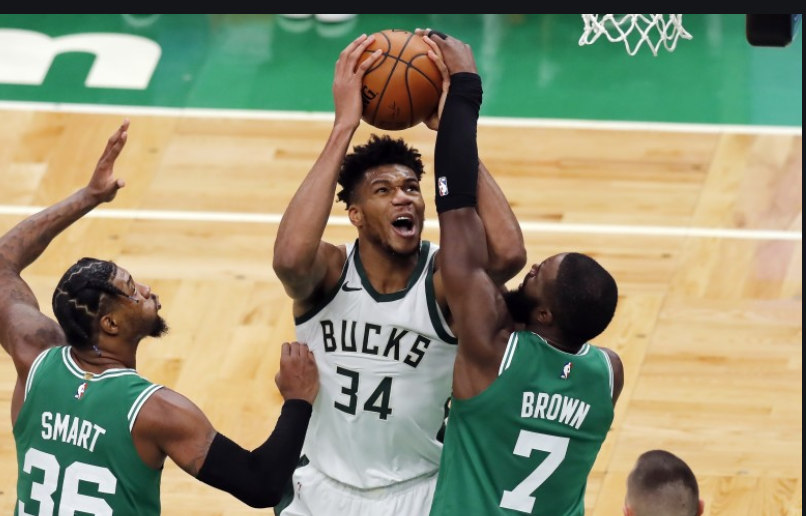 Tatum banked in a fallaway, go-ahead 3-pointer in the final second, and Antetokounmpo missed a potential tying free throw with 0.4 seconds left, allowing the Boston Celtics to escape with a 122-121 victory over the Milwaukee Bucks on Wednesday night in the teams' season opener.
"Ever since I was a kid, I always wanted to be in that position," said Tatum, who scored 30 points. "If it goes down or not, that's what I work so hard for. You just want to be in that moment."
---
Where Can I Bet Bucks Games From Wisconsin? - Is the FoxBet App Available?
Where Can I Bet Warriors Games From Cali? - Is FanDuel Available for Betting Sports in California?
----
Prop Bets (Coming Shortly)
Warriors @ Bucks Fri, Dec 25, 2020 EST
| Rot | Stephen Curry (GSW) Total Points | Moneyline |
| --- | --- | --- |
| 801 | Over  25½  Points | -115 |
| 802 | Under  25½  Points | -115 |
| Rot | Stephen Curry (GSW) Total Assists | Moneyline |
| --- | --- | --- |
| 803 | Over  6½  Assists | -135 |
| 804 | Under  6½  Assists | +105 |
| Rot | Stephen Curry (GSW) Total Made 3 Point Field Goals | Moneyline |
| --- | --- | --- |
| 805 | Over  3½  3 Pt FGs | -180 |
| 806 | Under  3½  3 Pt FGs | +150 |
| Rot | Andrew Wiggins (GSW) Total Points+Rebounds+Assists | Moneyline |
| --- | --- | --- |
| 807 | Over  25½  Pts+Rebs+Assists | -130 |
| 808 | Under  25½  Pts+Rebs+Assists | Ev |
| Rot | Andrew Wiggins (GSW) Total Made 3 Point Field Goals | Moneyline |
| --- | --- | --- |
| 809 | Over  1½  3 Pt FGs | -145 |
| 810 | Under  1½  3 Pt FGs | +115 |
| Rot | Kelly Oubre Jr (GSW) Total Points | Moneyline |
| --- | --- | --- |
| 811 | Over  15½  Points | -105 |
| 812 | Under  15½  Points | -125 |
| Rot | Kelly Oubre Jr (GSW) Total Made 3 Point Field Goals | Moneyline |
| --- | --- | --- |
| 813 | Over  1½  3 Pt FGs | -160 |
| 814 | Under  1½  3 Pt FGs | +130 |
| Rot | Giannis Antetokounmpo (MIL) Total Points | Moneyline |
| --- | --- | --- |
| 901 | Over  30½  Points | -125 |
| 902 | Under  30½  Points | -105 |
| Rot | Giannis Antetokounmpo (MIL) Total Rebounds | Moneyline |
| --- | --- | --- |
| 903 | Over  14½  Rebounds | -105 |
| 904 | Under  14½  Rebounds | -125 |
| Rot | Giannis Antetokounmpo (MIL) Total Made 3 Point Field Goals | Moneyline |
| --- | --- | --- |
| 905 | Over  1½  3 Pt FGs | -135 |
| 906 | Under  1½  3 Pt FGs | +105 |
| Rot | Khris Middleton (MIL) Total Points+Rebounds+Assists | Moneyline |
| --- | --- | --- |
| 907 | Over  32½  Pts+Rebs+Assists | -105 |
| 908 | Under  32½  Pts+Rebs+Assists | -125 |
| Rot | Khris Middleton (MIL) Total Made 3 Point Field Goals | Moneyline |
| --- | --- | --- |
| 909 | Over  2½  3 Pt FGs | +130 |
| 910 | Under  2½  3 Pt FGs | -160 |
| Rot | Jrue Holiday (MIL) Total Points | Moneyline |
| --- | --- | --- |
| 911 | Over  16½  Points | -125 |
| 912 | Under  16½  Points | -105 |
| Rot | Jrue Holiday (MIL) Total Made 3 Point Field Goals | Moneyline |
| --- | --- | --- |
| 913 | Over  1½  3 Pt FGs | -170 |
| 914 | Under  1½  3 Pt FGs | +140 |
| Rot | First To Score | Moneyline |
| --- | --- | --- |
| 1999 | Warriors     | +115 |
| 2000 | Bucks     | -145 |
| Rot | First To Score 20 Points | Moneyline |
| --- | --- | --- |
| 2003 | Warriors     | +170 |
| 2004 | Bucks     | -210 |
| Rot | Largest Lead of the Game | Moneyline |
| --- | --- | --- |
| 2005 | Over  19½  Points | -115 |
| 2006 | Under  19½  Points | -115 |
| Rot | Double Result | Moneyline |
| --- | --- | --- |
| 2007 | Warriors - Warriors     | +600 |
| 2008 | Tie - Warriors     | +4500 |
| 2009 | Bucks - Warriors     | +1000 |
| 2010 | Warriors - Bucks     | +400 |
| 2011 | Tie - Bucks     | +1500 |
| 2012 | Bucks - Bucks     | -240 |
| Rot | Highest Scoring Half | Moneyline |
| --- | --- | --- |
| 2018 | 1st Half     | -150 |
| 2019 | 2nd Half     | -110 |
| 2020 | Tie     | +4500 |
| Rot | Winning Margin | Moneyline |
| --- | --- | --- |
| 2021 | Warriors to win by 1-2 pts     | +1700 |
| 2022 | Warriors to win by 3-6 pts     | +1100 |
| 2023 | Warriors to win by 7-9 pts     | +2400 |
| 2024 | Warriors to win by 10-13 pts     | +2400 |
| 2025 | Warriors to win by 14-16 pts     | +3500 |
| 2026 | Warriors to win by 17-20 pts     | +5500 |
| 2027 | Warriors to win by 21 or more pts     | +4500 |
| 2028 | Bucks to win by 1-2 pts     | +1000 |
| 2029 | Bucks to win by 3-6 pts     | +450 |
| 2030 | Bucks to win by 7-9 pts     | +550 |
| 2031 | Bucks to win by 10-13 pts     | +400 |
| 2032 | Bucks to win by 14-16 pts     | +600 |
| 2033 | Bucks to win by 17-20 pts     | +550 |
| 2034 | Bucks to win by 21 or more pts     | +325 |
| Rot | Team with Highest Scoring Quarter | Moneyline |
| --- | --- | --- |
| 2035 | Warriors     | +210 |
| 2036 | Bucks     | -210 |
| 2037 | Tie     | +600 |
| Rot | 1st Half Winning Margin | Moneyline |
| --- | --- | --- |
| 2038 | Warriors to win by 1-3 pts     | +750 |
| 2039 | Warriors to win by 4-6 pts     | +1000 |
| 2040 | Warriors to win by 7-9 pts     | +1700 |
| 2041 | Warriors to win by 10-12 pts     | +2400 |
| 2042 | Warriors to win by 13-15 pts     | +3500 |
| 2043 | Warriors to win by 16 or more pts     | +3500 |
| 2044 | Bucks to win by 1-3 pts     | +550 |
| 2045 | Bucks to win by 4-6 pts     | +500 |
| 2046 | Bucks to win by 7-9 pts     | +500 |
| 2047 | Bucks to win by 10-12 pts     | +550 |
| 2048 | Bucks to win by 13-15 pts     | +700 |
| 2049 | Bucks to win by 16 or more pts     | +400 |
| 2050 | Tie     | +1500 |
- Dan Shapiro, Gambling911.com