Common Bookie Mistakes When Starting a Sportsbook
Published on:
Oct/31/2021
There are common mistakes that bookies make when starting a full service Pay Per Head bookie business.  Just one of these mistakes can do damage, committing all of these attocities will bury your book.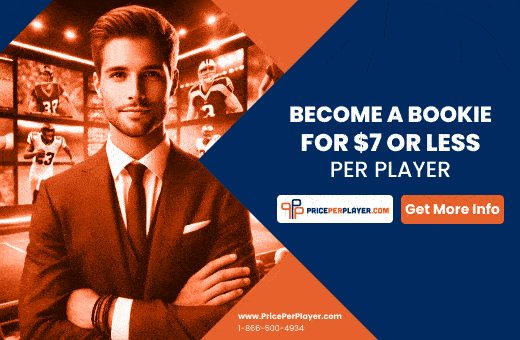 No Funding
You need to know what your budget and size of operations is. If you want a larger sportsbook, then you need to spend more. There are industry-preferred options, like a bookie Pay Per Head service, which is not only affordable (PricePerPlayer starts at just $5 per week per active customer), they save on costly overhead costs. Scalability is also not an issue here. A pay per head software can help you with a large sportsbook of a thousand players. It is also just as capable in helping you with your sportsbook of 50 players. Funding your sportsbook for payouts will be your highest expense. If you cannot afford to give the payouts due to funding errors, then your sportsbook is as good as gone.
No Player Management
Never be content to just watch your players bet without a keen focus on the bottom line and carefully monitoring their wagering habits. You can have a very profitable player on your hands. Or, you could have a sharp who will bleed you out if you are not careful. In addition, you can discover arbitrage bettors from the amount they bet. If you fail to look at the behaviors of your players, then you will miss out on crucial moves that include the increasing of limits to high rollers. From time to time, it may be necessary to ask a player to leave if he or she is engaging in risky behavior.
Delayed Line Movement
If you are using a Pay Per Head service, real time lines will be readily available for viewing. These numbers are carefully created by industry experts.  Case in point, did you happen to watch that FSU-Clemson game in Week 9 with a line of Tigers -9.5?  Mishaps by the Seminoles in the final few seconds of that game resulted in the Tigers scoring a touchdown down by 4 points, resulting in a 10-point win and half point cover.  This is not a one-off.  Savvy linesmakers know the math.  But just imagine all the live in-play bets coming in on the Noles during the final two minutes with Clemson appearing to be left for dead on the spread.  And to think Clemson came into this one 0-7 Against The Spread and in danger of going 0-8 despite having a few wins above the .500 mark.  The Tigers actually represent one of those rare instances where the oddsmakers have not been at all in sync with Clemson's Straight Up record.
Keep in mind that sharps look for bookies with weak lines, and their betting can cost you a lot of money. This can be a bit challenging, especially during peak season, such as the playoffs or the postseason of the NFL or the NBA.
Bad Software
If your bookie software only has the bare basics, then you will be held back in terms of what you can do with your sportsbook. It is very important to use the best available software. Cost should not be a problem, as the best Pay Per Head software can be found at a very affordable $5 per player.
- Aaron Goldstein, Gambling911.com