Casino closings in Michigan for the next three weeks could be a sign of things to come in Las Vegas, many experts are warning.
Covid-19 cases surged past 7000 in the Great Lake State in recent days prompting Governor Gretchen Whitmer to order the closure of indoor dining, in-person high school and college classes as well as the state's casinos.
"It is hard to imagine a world in which we don't see more restrictive operating environments for U.S. retail casinos across the next two quarters," according to Chris Grove, a financial analyst with Eilers & Krejcik Gaming. "The only questions are how restrictive measures will be and what specific form those measures will take."
While some brave souls continue their trek to the local casinos, the vast majority of gamblers still opt to stay in the confines of their own home until a vaccine is readily available.  They can still visit their favorite casinos virtually. The listings of online casinos found on the Net today resembles that of an old phone book.  Many feature live dealers and the duplicated surroundings of actual land-based gaming establishments.
Newly announced vaccines could be introduced as early as December for high risk groups as well as health care professionals, however, more extensive allocation is not expected until the spring.  Land-based casino operators are hopeful that the dabbling in virtual gaming now will lead to a renewed interest in the full service appeal of the brick and mortar once things get back to normal.
Covid Casino Casualties
Even with casinos open in Vegas, business is way down.
The Park MGM's Las Vegas Strip hotel will temporarily close midweek as the COVID-19 pandemic has slowed tourism.
"Know that all of us on MGM's leadership team are laser-focused on doing all that we can to bring business back," Operating Officer Anton Nikodemus wrote, per the Review-Journal. "Progress is being made, and we are optimistic that we are headed in the right direction. There are bright spots on the horizon."
Wynn Resort's Encore is also closed Mondays through Thursdays while the Sand's Palazzo hasn't taken weekday reservations since July.
Covid-19 cases in Nevada had stayed under 1000 until earlier this month.  Most days since have seen cases between 1200 and 1800 per day.
On Saturday, for the first time since the pandemic began, the state broke the barrier of 2,000 new cases in one day, reporting a record 2,269 cases.
Nevada Gov. Steve Sisolak (pictured below) warned last week that he could take "further action" should the number of coronavirus cases increase.  The Governor emphasized his preference not to impose any new restrictions.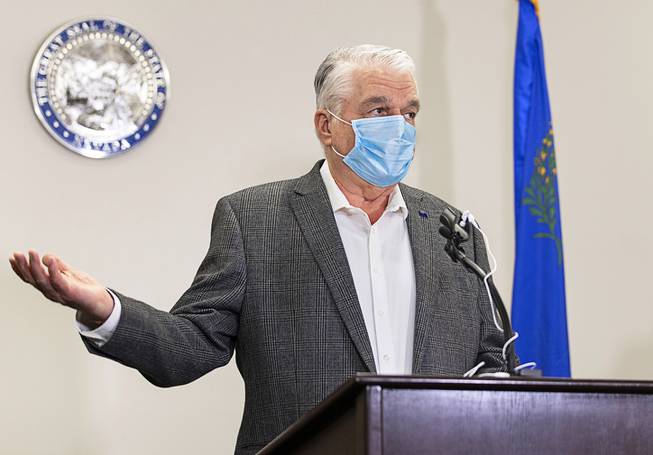 Online Casinos Thriving
Since the beginning of the worldwide pandemic back in March, online casinos have continued to fill the void much the same way Uber Eats has capitalized from restaurant closures and Zoom Conferencing got its boost from in-home work and schooling. That trend is set to continue at least for the remainder of this year.
Boredom, anxiety and being confined to one's home has helped to fuel the interest in online gambling.
The state of New Jersey offers both land-based and online casino operations, all of which must report their numbers to the state.
Atlantic City casinos did see a year-over-year boost in business, perhaps a result of many summertime activites being curtailed.
Total gaming revenue reported by Atlantic City's casinos was up 14.2% from the same period in 2019 to $304 million, according to data released Friday by the state Division of Gaming Enforcement.
By comparison, online gaming revenue increased more than 106% during the month of October ($93.45 million).
Some Casinos Will Take Their Chances
The Soaring Eagle Casino in Mt. Pleasant, Michigan will remain open despite Governor Whitmer's declaration. Gaming at tribal casinos does not fall under state regulation according to the Michigan Gaming Control Board.
The state's tribal casinos technically shut down voluntarily at the start of the pandemic, but have little interest in repeating that move this fall. Other tribal casinos look to follow suit. 
Kathy George, CEO of FireKeepers Casino Hotel, stated that the facility has been deemed essential by its tribal council. 
"They deemed us  an essential business for the survival of the tribe," she said. "We're going to be following the CDC guidelines obviously." 
Vegas casinos do not have the same luxury. What Sisolak says goes. For now he's just asking for residents to restrict out-of-home activities for the next 14 days while encouraging tourists adherence to Covid-19 protocols.
He remains understanding that strict stay-at-home restrictions can curtail the virus but also realizes how economically devastating such measures would be to the state's economy.
Still, there may be no other option but to shutter casinos once again.
As of Thursday, Southern Nevada hospital beds were 85% occupied by all causes; 708, or 18%, of all hospital patients were confirmed or suspected COVID-19 cases.
"We know the positivity rates, the growth in positivity rates, directly reflect to the emergency departments, the ICUs and ultimately deaths," Mason Van Houweling, chief executive of University Medical Center, said. "We need all Nevadans to take the advice and stay at home best as you can."
- Alejandro Botticelli, Gambling911.com