Can I Bet on Draftkings Sportsbook App From Texas?
Published on:
Sep/08/2023
You will not be able to bet using the Draftkings sportsbook app from Texas but BetOnline does take bets from Texas. They offer a generous cash welcome bonus.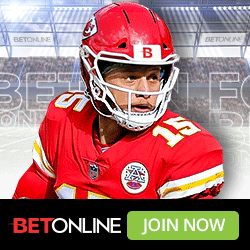 Week 1 Dallas Cowboys @ New York Giants
Dallas comes into their opening season game against arch rival the New York Giants as a firm -3.5 road favorite Sunday night.
We get a line of Dallas -1.87 as the Cowboys comes in rated No. 9 on Sagarin (22.76) and Giants No. 20 (18.89) but with home field advantage of 2.00.  This suggests an overlay of 2 points.
The dog in this scenario (+3/+3.5 without going under the number 3) had covered in better than 70% of our sampling last season.
The Cowboys are 9-1 over the last ten meetings.  Only two of the wins were within the 3.5 point spread.
Week 2 Texas Longhorns @ Alabama Crimson Tide
Texas lost by a single point to the Tide last year at home in Austin
Both teams sit among the top ten in the Sagarin Ratings with Alabama on top (95.98).  Texas was rated at No. 8 (87.06).
The line has mostly stayed on the 7 favoring Alabama with some shifts to the 7.5. Our line comes in at 11.82.  This suggests an underlay of 4.5 to 5.
Week 2 Texas A&M Aggies @ Miami Hurricanes
This promises to be one of the better games of the week. Miami opened as much as a +4.5 home dog, dropping to +3.5.
Sagarin has the Aggies rated at No. 11 (85.02) and Miami No. 35 (75.57), which gives us a number of 4.55 for Texas A&M when we factor in the home field advantage. That is the actual line.
Action is balanced.
The Aggies' defense might not have it as easy this week against the Canes top quarterback Tyler Van Dyke and a Miami rushing attack that gained 250 yards last week against Miami Ohio.
Mark Fletcher Jr., Henry Parrish Jr. and Donald Chaney Jr. each had rushing yard in the second half -- ranging from 12 to 26 yards.
"We got the guys up front and physicality, but it's a different opponent," Aggies coach Jimbo Fisher said. "Miami is a very good opponent and they know how to run it. (Miami coach Mario Cristobal is) a line coach himself. He's gonna have those guys ready to run it and you guys still gotta play the play-action passes and things are always gonna come off those things."
- Mary Montgomery, Gambling911.com