Three favorites lost outright Sunday and they just happened to have been the days three biggest exposures for the books.
The biggest exposure by far was Indianapolis playing in Jacksonville and losing in a 0-6 yawnfest.
Atlanta fell to the Ravens at home 16-26.  It didn't matter that the Falcons were so heavily wagered from a +2.5 dog to a -2.5 home favorite.
Next on the list, the Panthers, also losing to the Bucs 17-24.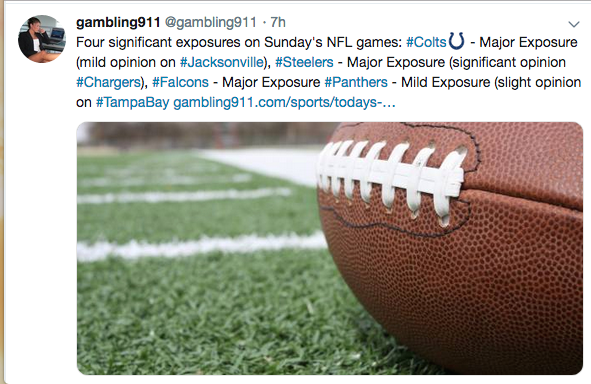 What we tweeted to our followers ahead of the day's games.
The books encouraged betting on two of the heavy favorites: Indianapolis and Carolina.  They followed the action on Atlanta.
But it is Sunday Night's NFL game between the Chargers and Steelers that will have the greatest impact.
Los Angeles had been a +3.5 prior to Saturday.  By Sunday all books were holding at +3. 
Pittsburgh was seeing 62% of the action at -3.  The books can certainly try to balanced things out by moving back to -3.5, but that's not happening. 
There is a rather strong opinion here that the Chargers will cover.  There's also a degree of concern about a push.  No book has dropped to -2.5.
Looking ahead to Monday night's game, the action was relatively balanced with the Eagles -6 at home versus Washington.
- Ean Lamb, Gambling911.com