Inflation Still Near 40-year Highs as Bitcoin Drops Below $40K
Published on:
May/11/2022
The consumer price index accelerated 8.3% in April, more than the 8.1% estimate and near the highest level in more than 40 years.  The new numbers were released as Bitcoin plummeted below the $30,000 mark Wednesday morning, representing a near 7% drop over the past 24 hours.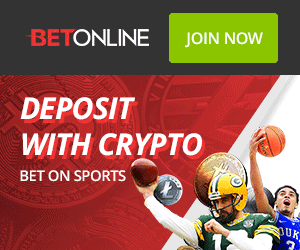 Inflation-adjusted earnings continued to decline for workers, falling 2.6% over the past year due to the surging cost of living.
Gasoline costs at the pump this week reached their highest level ever not adjusted for inflation.
"We're starting to see energy pull back a little bit, but it's not enough," Kathy Jones, chief fixed income strategist at Charles Schwab, told CNBC. "The markets were hoping for a better number and it's not good enough to rule out more Fed tightening."
The Dow was down around -147 to 32,045 shortly after opening.  BetOnline has dropped its June 30 Dow Jones closing total by 250 to 32250.5 in the past 24 hours.
Inflation or other economic woes might cause people to cut the cord with cable, cut back on eating out, and of course, take fewer vacations, writes Daniel Kline in a piece for TheStreet.com that focuses in on the vulnerability of casino stocks.
Caesars CEO Tom Reeg has a different take and shared his thoughts during his company's first-quarter earnings call.
"There's clearly something about gaming even within travel and entertainment with the social aspect if you want to, you walk the floors here and see groups of people that have not been out with each other in quite some time enjoying them," he said.  "So there's, there's a social aspect to this that I don't know how well we appreciated this until it was gone. And that's, I think, a significant driver of what we've got going here."
Elsewhere, cryptocurrencies continue to get hammered.  Bitcoin, the largest of the digital assets, has managed to stay just above the $29,000 mark following a sharp decline in recent days.  The price has decreased nearly 25% in the last week.
On the flipside, the 24-hour trading volume soared by 84% or as much as $83.3 billion, the Bitcoinist reports.
"This is the highest influx in transaction activity since mid-October 2021 when we started tracking," Glassnode analysts said in their report published Monday. "This further supports the case that bitcoin investors were seeking to de-risk, sell or add collateral to margin in response to market volatility."
Dow Jones Price June 30th at Close
03:30 AM
Over 32500.5 Points
-120
Under 32500.5 Points
-120
Gallon of Gas US National Avg on June 30th
03:30 AM
$4.00-$4.24
+200
$4.25-$4.49
+200
$4.50 or Higher
+200
$3.75-$3.99
+650
$3.50-$3.74
+2500
Less than $3.50
+3000
Oil Price (Barrel) June 30th at Close
03:30 AM
Over 99.5 USD
-140
Under 99.5 USD
+100