This week, poker player Shelby Wells posed the question if any of today's poker training sites are really worth it?  Her tweet resulted in some hundred plus responses.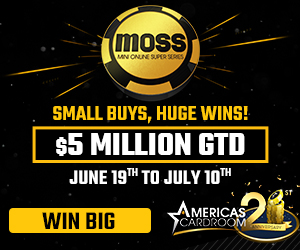 are any of the poker training sites worth it? which ones do ppl actually recommend?

— Shelby Wells (@lorenshleby) July 18, 2022
Chris Price suggested:
"SolveForWhyTV content and process is awesome. Both their tournament content and cash academies are 100% worth it."
Rachel Lees Think says:
"Run It Once and Raise Your Edge."
Then there was @adamdavisus with his recommendation:
"I think for general tournament training and the process of "learning how to learn", @LearnProPoker is a fantastic place to start. Their companion app, @RangeTrainerPro was first to really make concept of ranges really "click" for me."
And SarahSilverMuck writes:
"@FarazJaka is good because he focuses on applicable strategies and techniques. He calls them "hacks." He has a once a week webinar where you can ask questions. Also, he has built up a good library. If you are going to focus on tourneys. He doesn't have cash resources."
And finally, HPoker tweets:
"I tell anyone who asks that the biggest bang for the buck for tournaments is @DTOPoker preflop basic. So many big decisions in tournaments happen preflop at shallower stack depths and its by far the easiest way to plug leaks. Grind online + study dto pre to compliment live events."
At 88, Poker Legend Doyle Brunson Is Still Bluffing. Or Is He?
The Texas gambler has been winning at poker for seventy years—long enough to become an icon and watch an outlaw's game become an industry and Texas Monthly has a great piece on Doyle Brunson here.  It includes some fantastic photos. 
We here at Gambling911.com had the pleasure of attending the toast of Brunson hosted by comedian Brad Garrett a few years back.  Pamela Anderson and Kid Rock were in attendance.  They ran off when Garrett started mocking Anderson by telling her to "get out from under the table" where he implied she was doing some naughty things.  Rock wasn't happy.
"You still have plenty of time to blow the members of Whitesnake," Garrett yelled as she was running out the door with her posse.
Somach to Prove His Worth Tuesday Night With "Guaranteed" Winning Bet
Shifting over to sports, our own Thomas Somach is claiming he has an angle on the MLB All Star Game that always comes through.  It's the UNDER, with this one set at 7.5.
"(The) All-Star game almost always goes under the total when it's on the West Coast because the Game starts at 5 PM local time much of the game takes place during sunset when the ball is hard to see so hard to hit," Somach tells us.
In fact, all of the West Coast games were low scoring except for one.  There was another high scoring West Coast game but that was at the Kingdome in Seattle and indoors, therefore doesn't factor into this intriguing angle.
Twenty years ago Somach rightly predicted individuals would be able to bet sports at ball parks and stadiums (a concept unfathomable in those days), picked Layne Flack to be nominated to be inducted into the Poker Hall of Fame this year (like shooting fish in a barrel), and Tuesday night we'll see if he can finally claim the mantle of "The New Nostradamus".
A Sports Betting Angle That Involves No Modeling, No Steam-Chasing, No Inside Info
And finally, we take a look at how an aspiring sports betting pro turned $2.5k into $150k in 3 months without the use of any "inside info" and the like.
$2.5k -> $150k in 3 months

Last year I mentioned that I had 100xed my bankroll in 8 months w/o hitting a big longshot. This is the story of the angle that got it all started.

It involves no modeling, no steam-chasing, no inside info. Almost anyone could've done it.

1/x

— Telemachus (@TelemachusModel) July 18, 2022
April 2021.

At that time, I was:
- A rec bettor.
- Making small amounts of money hitting promos.
- Arbing free bets to guarantee profit.
- Lurking at r/sportsbook waiting for tips on arbs.

One day, someone posted something along these lines in the Daily Promos thread...

3/x

— Telemachus (@TelemachusModel) July 18, 2022
It read:

"Aaron Judge HR:
Barstool - Yes: +360
MGM - No: -350
Careful since they have different rules on how bets get resolved."

A message like this, with this disclaimer, was posted daily in those threads.

I finally got curious. Why would books have different rules?

4/x

— Telemachus (@TelemachusModel) July 18, 2022
The rules.

Barstool: "A player must START for you bet to have action".
MGM: "A player must PLAY for your bet to have action".

1st thought: The public bets on overs. Pinch hitters hurt overs. MGM is smart.

But, wait. Doesn't MGM offer unders? It can't be that easy, right?

5/x

— Telemachus (@TelemachusModel) July 18, 2022
It can. The angle in it's simplest form:

- Judge isn't starting for NYY.
- Bet Judge u0.5 Hits @ +180.
- Judge never plays? Bet voids.
- Judge pinch hits / pinch runs / def sub? ROI is ~140%

We only lose our +180 bet if Judge subs-in and gets a hit in 0 or 1 at bats.

6/x

— Telemachus (@TelemachusModel) July 18, 2022
It can. The angle in it's simplest form:

- Judge isn't starting for NYY.
- Bet Judge u0.5 Hits @ +180.
- Judge never plays? Bet voids.
- Judge pinch hits / pinch runs / def sub? ROI is ~140%

We only lose our +180 bet if Judge subs-in and gets a hit in 0 or 1 at bats.

6/x

— Telemachus (@TelemachusModel) July 18, 2022
Yeah, but, does it scale?

For a 15 game MLB slate:

MGM offers props on 8 players on each team who may not start: 240 players

We found ~15% of those don't start: 36

42% of those get in the game: 15

5-6 markets for each player = 75 theoretical +++EV bets PER DAY.

7/x

— Telemachus (@TelemachusModel) July 18, 2022
Yeah, but, isn't it hard to predict starting lineups?

It is! And, once a lineup comes out, markets for those players are removed. So, who do we bet on?

Better question: What is the penalty for betting on someone who does start?

The penalty is 0. MGM offers 100% Cash Out.

8/x

— Telemachus (@TelemachusModel) July 18, 2022
Yeah, but, won't they turn off Cash Out?

Yes, eventually. So, once a lineup comes out, how fast does MGM remove non-starters? In practice, between 30 and 180 seconds.

Plenty of time for a script to diff the lineup and markets and then to manually place the bets it finds.

9/x

— Telemachus (@TelemachusModel) July 18, 2022
Yeah, but, then you're waiting for lineups all day?

Yes. That's certainly a downside. Automating the placement of bets is against T&Cs and not worth the risk. Plus, that's why @spanky invented the piss jar.

10/x

— Telemachus (@TelemachusModel) July 18, 2022
Yeah, but, you can't manually place 75 bets in a short window like that, right?

Correct. That's one reason the 75 number was theoretical. If you focused on the higher payout markets (hits, singles, runs, etc.) you'd still grow your bankroll very quickly.

11/x

— Telemachus (@TelemachusModel) July 18, 2022
Yeah, but, didn't you get limited?

Of course. It was dead obvious what I was doing too. So, they fixed the error, right? Right? RIGHT???

Nope. Not for 3 months. Without a network, I enlisted friends and sent them the plays to make. As a group we netted close to $250k.

12/x

— Telemachus (@TelemachusModel) July 18, 2022
MGM finally fixed this by changing their house rule near the end of the '21 season.

House rule changes need to be approved by the state GC. Being salty about the in-season rule change, I inquired to see if proper procedures were followed. My state never returned my emails.

13/x

— Telemachus (@TelemachusModel) July 18, 2022
And, to spare MGM a bit, they weren't the only one that made this mistake.

WynnBet and Golden Nugget had the same issue. They just offered far fewer prop markets so it didn't scale as well. It was still profitable to bet but it made more sense to focus on MGM.

14/x

— Telemachus (@TelemachusModel) July 18, 2022
$150k in 3 months. Pretty good, eh?

Not really, actually. Anyone with any experience with this type of thing would've done much, much better. I was green and had a small BR.

I learned a ton though. Give me that same angle now and it's easily $1M.

15/x

— Telemachus (@TelemachusModel) July 18, 2022
Yeah, but, why share this at all?

I'll spare you the altruistic reasons and stick to the selfish one:

I want the next person who finds an angle like this to reach out to me. We'll make more money working together leveraging the knowledge and network that I've built.

The End.

— Telemachus (@TelemachusModel) July 18, 2022
- Nagesh Rath, Gambling911.com