What Will the Line Be on the Nebraska Cornhuskers vs. Colorado Buffaloes Game?
Published on:
Sep/02/2023
The Colorado Buffaloes were among the most wagered on teams in Week 1 according to BetOnline.  They were a +21 underdog against a TCU team that played in last year's College Football Playoff Championship game - and got crushed by Georgia.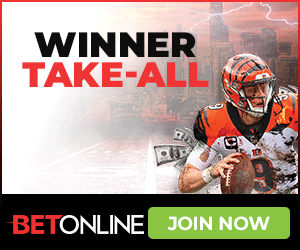 The Buffaloes stunned TCU Saturday with a final score of 45-42.
The Week 2 line would be Colorado +6, but with significant adjustments we were forecasting to see the number within 3 points (BetOnline live odds will be here and available on Sunday).  BetOnline's Dave Mason had Colorado the -3 point favorite heading into Monday evening.
Sagarin still had Nebraska's rating at #49 (74.10) and Colorado #90 (64.65) before the updated ratings release on Tuesday..  The Buffaloes will be playing at home in Week 2 with a home field advantage number currently at 3.39.
Then game this revelation from Mason:
"There are already more bets on Colorado's spread, than 31 of the NFL Week 1 teams, after having the Nebraska-Colorado line up for less than 24 hours."
WOW...

The Nebraska - Colorado spread has been up for one day.

The NFL Week 1 odds have been up for months.

Even still, there are already more bets on Colorado's spread, than 31 of the NFL Week 1 teams.

The only team with more bets than Colorado is the Chiefs.

— Dave Mason (@DaveMasonBOL) September 4, 2023
Deion Sanders made his much anticipated debut as the Colorado head coach and he didn't disappoint.
Despite the large spread, oddsmakers and pundits alike treated the Buffaloes as if they were a top-10 ranked team, and they sort of looked it Saturday.  Keep in mind this is a team that won a single game in 2022.
On Monday September 4, 2023, Dave Mason of BetOnline released lines for ALL Colorado Buffaloes games this season:
Colorado Buffaloes regular season spreads:
-3 vs Nebraska
-21 vs Colorado St
+13 @ Oregon
+13 vs USC
-4 @ Arizona St
-16 vs Stanford
+6.5 @ UCLA
+3 vs Oregon St
-9.5 vs Arizona
pk @ Washington St
+13.5 @ Utah
Colorado AD Rick George trusted that he'd find the money to hire Deion Sanders to turn around the program.

Buffs fans responded with a record $28M in donations.

After Colorado's upset of TCU, an emotional George found Sanders on the field:

pic.twitter.com/oaoBWSwXQf

— Front Office Sports (@FOS) September 2, 2023
If you had bet Colorado to win on the moneyline the payout would have been between $700 and $900 on a $100 bet.
Much of the Buffaloes players from last year are long gone.  Deion's son Shedeur Sanders has taken over as the starting quarterback and threw for 510 yards with four touchdowns.
The game-winner was a 46-yard catch-and-run by freshman Dylan Edwards with 4:25 left.
Travis Hunter is another of the team's bright new star players.  In total there are 87 new faces as part of the Colorado program, which heading into this season has had  only two winning records since 2005.
"I've been talking about it and talking about it and you didn't believe me," Coach Prime said after his first victory as a major college football coach.
Colorado's regular season win total was set at just 3 with two more to go for the OVER.
- Tyrone Black, Gambling911.com