Wildcat Red Odds to Win the Kentucky Derby: Best Post Position in the Race
Published on:
May/01/2014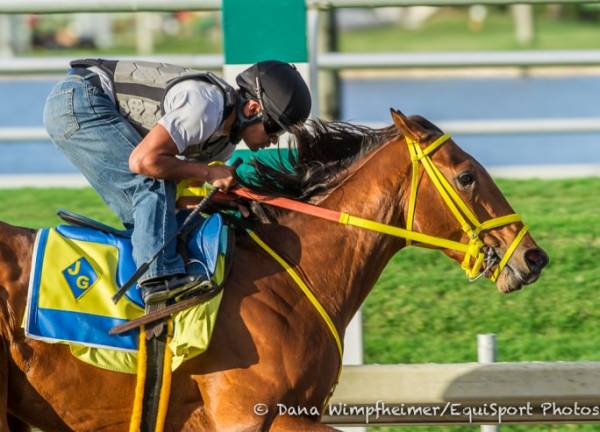 Wildcat Red had 15-1 odds to win the 2014 Kentucky Derby.  Great odds considering he has what is probably the best post position in the race.  Sign up today at AceSportsbook.com, and they will match your initial deposit with a 100% Free Play!  Live In-Play Wagering and Mobile Gambling Available. 
Wildcat Red's greatest edge in this race is indeed his starting point.  A total of nine horses have won from the number 10 spot with Giacomo in 2005 being the last.
This is hardly Wildcat Red's only strong point.  He's never been worse than 2nd in all seven of his lifetime starts.  He was victorious at the Hutcheson and Fountain of Youth before losing by a neck second in the Florida Derby.  This horse is super fast.
There are questions as to whether Wildcat Red can maintain similar speeds at the full distance of Churchill Downs.  He's yet to slow down in any of the races he's run thus far. 
He's consistent but can Wildcat Red carry his speed an extra eighth of a mile at Saturday's Kentucky Derby?  That is the million dollar question.
30% at 3X roll

60% at 6X roll

90% at 9X roll

120% at 12X roll

40% at 4X roll

70% at 7X roll

100% at 10X roll

130% at 13X roll

50% at 5X roll

80% at 8X roll

110% at 11X roll

140% at 14X roll

150% at 15X roll

200% at 20X roll
HORSE TO WIN THE KENTUCKY DERBY

THE 2014 KENTUCKY DERBY (TO WIN) - May 02

 

May 02 - 12:00 PM

33301

HORSE TO WIN THE KENTUCKY DERBY

CALIFORNIA CHROME

+225

 

May 02 - 12:00 PM

33302

HORSE TO WIN THE KENTUCKY DERBY

CANDY BOY

+1500

 

May 02 - 12:00 PM

33303

HORSE TO WIN THE KENTUCKY DERBY

CHITU

+2000

 

May 02 - 12:00 PM

33304

HORSE TO WIN THE KENTUCKY DERBY

COMMANDING CURVE

+6500

 

May 02 - 12:00 PM

33305

HORSE TO WIN THE KENTUCKY DERBY

DANCE WITH FATE

+2000

 

May 02 - 12:00 PM

33306

HORSE TO WIN THE KENTUCKY DERBY

DANZA

+800

 

May 02 - 12:00 PM

33307

HORSE TO WIN THE KENTUCKY DERBY

GENERAL A ROD

+1500

 

May 02 - 12:00 PM

33308

HORSE TO WIN THE KENTUCKY DERBY

HARRYS HOLIDAY

+6500

 

May 02 - 12:00 PM

33310

HORSE TO WIN THE KENTUCKY DERBY

INTENSE HOLIDAY

+800

 

May 02 - 12:00 PM

33311

HORSE TO WIN THE KENTUCKY DERBY

MEDAL COUNT

+2000

 

May 02 - 12:00 PM

33312

HORSE TO WIN THE KENTUCKY DERBY

PABLO DEL MONTE

+6000

 

May 02 - 12:00 PM

33313

HORSE TO WIN THE KENTUCKY DERBY

RIDE ON CURLIN

+1500

 

May 02 - 12:00 PM

33314

HORSE TO WIN THE KENTUCKY DERBY

SAMRAAT

+1500

 

May 02 - 12:00 PM

33315

HORSE TO WIN THE KENTUCKY DERBY

TAPITURE

+1200

 

May 02 - 12:00 PM

33316

HORSE TO WIN THE KENTUCKY DERBY

UNCLE SIGH

+3000

 

May 02 - 12:00 PM

33317

HORSE TO WIN THE KENTUCKY DERBY

VICARS IN TROUBLE

+2500

 

May 02 - 12:00 PM

33318

HORSE TO WIN THE KENTUCKY DERBY

VINCEREMOS

+5500

 

May 02 - 12:00 PM

33319

HORSE TO WIN THE KENTUCKY DERBY

WE MISS ARTIE

+5000

 

May 02 - 12:00 PM

33320

HORSE TO WIN THE KENTUCKY DERBY

WICKED STRONG

+550

 

May 02 - 12:00 PM

33321

HORSE TO WIN THE KENTUCKY DERBY

WILDCAT RED

+1500

- Don Shapiro, Gambling911.com