West Ham Could be No More Following Iceland Freezing Assets
Published on:
Oct/12/2008
Iceland invested a great deal across Europe and that nation's economy crashed this past week, culminating with several bank closures.
One of Iceland's investments included ownership in England's West Ham football club.
The financial crisis at Upton Park is so acute following the collapse of Icelandic owner Bjorgolfur Gudmundsson's Landsbanki that several members of the club hierarchy believe the Hammers could go to the wall unless a takeover can be engineered, according to a report filed by the News of the World Sunday.
Although the club is not officially up for sale, brokers Seymour Pierce are in contact with a prospective buyer who is said to be "cash rich" and wants to buy.
City experts value West Ham at around £100million but buyers have also been made aware of Sheffield United's looming compensation claim of up to £50m.
That has put the Hammers in a Dutch auction - with any potential purchasers simply sitting on their hands and waiting for the price to drop.
A football club to become a casualty of recent worldwide economic woes?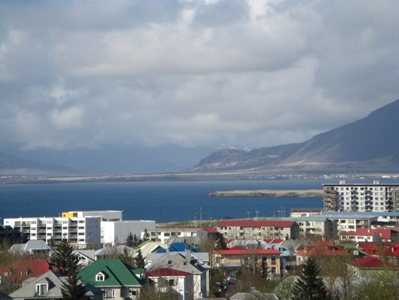 Sources in Reykjavik told NOTW that Gudmundsson is under pressure from Iceland's government to move funds into the country's ailing economy.
An Upton Park insider said: "Nobody knows what's going on except that the place is in turmoil.
(photograph: Iceland in brighter times)
"The players are now wondering if their wages are guaranteed, boss Gianfranco Zola (left) knows he's going to have to sell in January and people believe Gudmundsson will have no other choice but to sell the club.
"We've been told there is somebody waiting to buy but also that it has to happen quickly or the club is in a desperate situation."
Gudmundsson was chairman of the Icelandic bank Landsbanki before it was nationalised this week and he was relieved of his duties. That nation's crippled economy reportedly has cost the West Ham owner £230million to date as he faces further erosion of personal wealth. Iceland has froze or is in the process of freezing assets of some of the country's top earners, the Daily Mail reported this past week.
....Betting on West Ham United Premiership Relegation was set at 7/1 odds at Sportingbet.com
----
Alistair Prescott, Gambling911.com