Suddenly the North American focused online sportsbooks have something else to celebrate and the British-based bookmakers will certainly be building this one up.  It's USA vs. England World Cup odds as we learned on Friday the two teams will play one another come next summer.  But already the hype is building, especially with the USA team looking pretty darn good of late. 
"This is the weakest group, but for bookmakers it could prove the most profitable," says Alistair Prescott of Gambling911.com.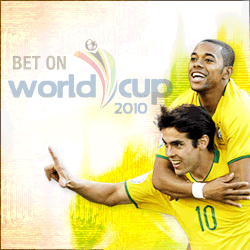 For US bettors, Sportsbetting.com offered odds in Group C.  That's where USA and England have been drawn.  Sports Interaction welcomes punters from the United Kingdom and across the globe.  They are based outside of Montreal, Quebec, Canada, and have been in business for 12 years.
Essentially, a bet of US$20.00 must be wagered to win US$10.00.  The initial bet is paid back in the event that England wins.  The higher risk is due to England being instilled as a the favorite.
Odds are good that a majority of folks from the United States will be betting on Team USA at Sports Interaction.  The payout here is more lucrative with a nominal risk.  USA pays US$35.50 for every US$10.00 bet or US$350 for every US$100 bet.
"The expectation level around sports fans and soccer fans is that we've got a good chance to advance," USA star player Landon Donovan said. "For those of us who were there in 2006, we've been waiting a long time for this opportunity....This is everything to me, and I want to make sure I'm as prepared as I can be and that the team is as prepared as we can be. I'm sure we will be, and then it's about getting on the field and playing the games."
Team USA nearly defeated Brazil at this summer's Confederate Cup in South Africa.  They led going into the second half.  That game was a Web traffic winner for Gambling911.com with the most interest for a soccer game originating from the US ever.  USA vs. England could finally help to create a loyal fan base in the United States, though it remains to see how rabid these fans will be compared to the rest of the world. 
In England, the media has already seemingly brushed off the US.  If that doesn't inspire folks in the States to start supporting their national team, we don't know what will:  Maybe USA vs. Iran or USA vs. North Korea (the later might be possible if not for the fact that North Korea is part of the dreaded "death group" featuring Brazil, Portugal and the Ivory Coast). 
Christopher Costigan, Gambling911.com Publisher