USA Beats Spain to Make Confederations Cup Final: Pays $900
Published on:
Jun/24/2009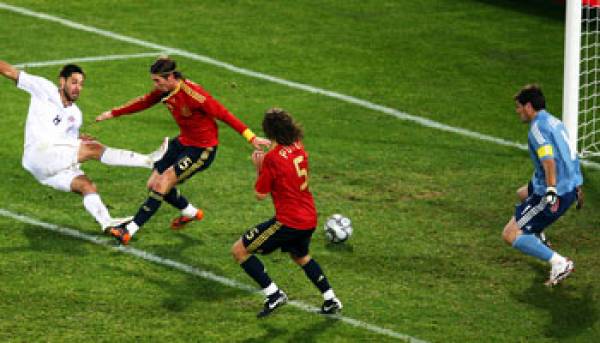 The oddsmakers gave Team USA practically zero chance to beat Spain in their Wednesday Confederations Cup semi-final. Sportingbet.com, which does not accept US gamblers, had the USA around 9/1 long shots to make it into the Confederations Cup Final by beating Spain.  The payout was US$900 for every US$100 bet.  US-facing SBG Global offered similar odds.
And why not?
The 14th-rannked United States reached the semis with a 3-0 victory over African champion Egypt as Brazil beat the Azzurri 3-0. The winner of Wednesday's game advances to the final against Brazil or host South Africa on Sunday, while the loser goes to the third-place match the same day.  USA had previously lost to both Brazil and Italy before Wednesday's game.
Then there was Team USA's previous performance against Spain.
Prior to Wednesday, the United States had been 0-3 against Spain, losing 3-1 in the first round of the 1950 World Cup, 2-0 in a 1992 exhibition at Valladolid and 1-0 in an exhibition on June 4 last year at Santander, when Xavi Hernandez beat backup goalkeeper Brad Guzan with a low shot in the 79th minute.
"They have less pressure. They have nothing to lose. For them, it's a positive that we assume the title of favorite, the responsibility and the pressure," Spanish midfielder Xavi Hernandez said before Wednesday's game. "We assume the mantle of favorites but it won't be an easy match. Not at all."
By winning, the maligned United States advanced to its first men's FIFA final since starting play in 1916.
Goals by Jozy Altidore and Clint Dempsey led to an upset of the planet's top-ranked team with a final score of 2-0.
Altidore scored in the 27th minute and Dempsey added a goal in the 74th as the Americans became the first team to defeat Spain since Romania in November 2006.
"It goes to show what hard work and commitment to each other can bring," said U.S. goalkeeper Tim Howard, who made eight saves as he frustrated David Villa and Fernando Torres. "Sometimes football is a funny thing."
Now the U.S. will play defending champion Brazil or host South Africa in Sunday's final, which concludes a two-week tournament designed to prepare the organizers of next year's World Cup.
"Regardless of whether we play Brazil or the Bafana Bafana, the challenge will be great," U.S. coach Bob Bradley said.
Midfielder Michael Bradley, son of the U.S. coach, will miss the final. He received a red card for a late challenge in the 87th minute, the third American ejection of the tournament.
Brazil was a big favorite to beat Brazil at SBG Global with a line of -450 while South Africa would pay US$800 for every US$100 bet should there be another upset like the one we witnessed Wednesday.
It was not yet known at the time of publication what payout odds would be offered on Team USA in the Confederations Cup Final.
Alistair Prescott, Gambling911.com