US Open Betting: Phil Mickelson Payout Odds at $1000
Published on:
Jun/14/2009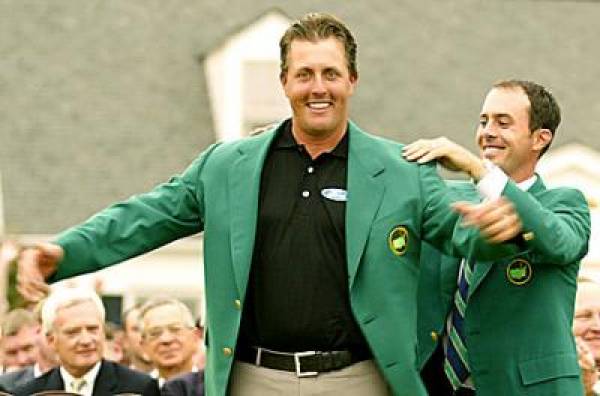 US Open betting is in full swing as we approach the start of the tournament on Thursday.  Heading into Monday, Phil Mickelson was the second big favorite after Tiger Woods, but the payout odds would suggest otherwise.  Mickelson pays as much as $1000 for every $100 bet at Sportsbook.com.
They are calling this another chapter of the Tiger Woods, Phil Mickelson saga. 
Could there possibly be two more compelling story lines than Tiger Woods and Phil Mickelson going into the 109th U.S. Open Championship this week? asks Gary D'Amato of the Milwaukee Journal Sentinel.
The two best players in the world - one coming off a virtuoso performance, the other running an emotional gauntlet - return to the brawny Black Course at Bethpage State Park in Farmingdale, N.Y., where they finished 1-2 in 2002.
Woods is the defending U.S. Open champion, but this time he'll be playing on two healthy legs. He squashed lingering doubts about his reconstructed left knee when he hit 49 of 56 fairways, including all 14 in a sublime final-round 65, to win the Memorial Tournament.
"If Tiger Woods hits that many fairways, no one can beat him," said two-time U.S. Open champion Andy North. "It doesn't matter where you're playing. If he drives it like that at Bethpage, he might win by 10."
Mickelson, who finished second to Woods by three shots at Bethpage in '02, returns to one of his favorite venues to try to win a trophy that suddenly seems insignificant in the bigger picture.
Mickelson's wife, Amy, whom he calls "the most charismatic person I've ever met," was diagnosed with breast cancer last month and is to begin treatment July 1. She is perhaps the most visible of the PGA Tour wives and her diagnosis sent shock waves through the sport.
Doug Ferguson of the Associated Press writes that Mickelson was a sympathetic figure in New York even before he disclosed his wife had breast cancer.
He inspired the Bethpage gallery in 2002 with an improbable bid to stop Tiger Woods, starting the final round five shots behind and closing within two shots until he ran out of holes and birdies.
They were poised for a celebration at Shinnecock Hills two years later until Mickelson took double bogey from the bunker on the 17th hole, and Retief Goosen turned in a putting performance that is tough to top.
And then came Winged Foot, where Mickelson lost a one-shot lead on the final hole with a risky shot that led to double bogey.
The losses piled up but the love for him never left.
"He knows how to smile, he knows how to do autographs, he gives his time better than any pro," former U.S. Open champion and TV analyst Johnny Miller said. "And he does play an exciting, Arnold Palmer-type of a game. Guys that hit it in the trees all the time are popular with the gallery.
"Phil winning would be the biggest story. There's so much sympathy, and they already love him more than anyone else."
Mickelson will get the most betting action after Tiger Woods this week, but the payout potential is so much greater.  One can wager $10 to potentially win a cool $100 or $100 to win $1000 and - if you're daring enough - $1000 to win $10000!
Mickelson has performed well in a number of tournaments he's appeared in.  He won three major championships including the 2004 and 2006 Masters and the 2005 PGA Championship.
Dan Shapiro, Gambling911.com