UFC 139 Fight Lines: $2000 Contest (Video)
Published on:
Nov/19/2011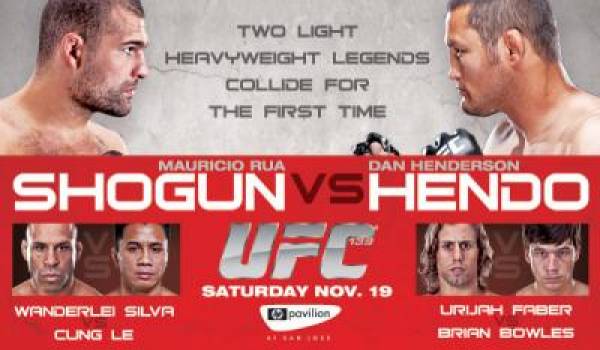 Gambling911.com has your latest UFC 139 fight lines plus don't forget to enter the $2000 FREE contest at BetDSI.com here.
Dan Henderson +120 vs. Mauricio Rua -150
Cung Le -150 vs. Wanderlei Silva +120
Brian Bowles +175 vs. Urijah Faber -215
Martin Kampmann +115 vs. Rick Story -145
Stephan Bonnar +105 Kyle Kingsbury -135
Jason Brilz +265 vs. Ryan Bader -325
Tom Lawlor +260 vs. Chris Weidman -320
Nick Pace +280 vs. Miguel Torres -350
Rafael Dos Anjos +155 vs. Gleison Tibau -185
Alex Soto +305 vs. Michael McDonald -450
Seth Baczynski +130 vs. Matt Brown -160
Shamar Bailey +270 vs. Danny Castillo -340
Video Preview Follows Below...
The marquee fights here are Henderson vs. Rua and Mauricio Rua.
Chuck Mindenhall of ESPN.com attempted to answer two questions coming into Saturday night's UFC 139 related to both matchups.
Q: Will Henderson neutralize Rua's striking by using his wrestling?

A: There's a defiance to Henderson that is admirable. When he fought Silva at UFC 82, he didn't want to pound him out for five rounds -- he wanted to knock him out in the second. When Redor Emelianenko came in winging bombs, Hendo stood in the pocket, dropped his chin and fired back. Against his Pride fraternity brother Rua, there's no way he'll balk at exchanges. But at the same time, he'll look for takedowns and whatever Rua gives. He isn't particularly finicky.
Q: Should he lose, is this it for Wanderlei Silva?
A: It's a real possibility, but if you've talked to Silva you know that fighting is his raison d'etre -- the thought of not having it spooks him. This is a winnable fight for Silva, but it's also a near certainty that both he and Cung Le will be headhunting and odds are it doesn't make it past the first round. If Silva is on the wrong end of an exchange -- and once you've developed a button, it doesn't magically go away -- if it's not the end of his MMA career, it'll be the last of his time in the UFC. A lot riding on this for Silva.
Tyrone Black, Gambling911.com