Published on:
Feb/04/2011
This UFC 126 betting preview is courtesy of SBG Global.
Super Bowl weekend includes an excellent card for UFC 126 betting in Las Vegas highlighted by Vitor Belfort taking on Anderson Silva. That bout is one of 11 scheduled for Saturday night at the Mandalay Bay Events Center in Las Vegas.  A great night of action is expected and the event was sold out more than week ago.
Silva is a -280 favorite in UFC oddsagainst Belfort at SBG Global.com
Also on the main card it is Forrest Griffin vs. Rich Franklin, Jake Ellenberger vs. Carlos Eduardo Rocha, Miguel Torres vs. Antonio Banuelos and Jon Jones vs. Ryan Bader. The Preliminary card has six bouts including two which will be shown on Spike TV with Donald Cerrone vs. Paul Kelly and Chad Mendes vs. Michihiro Omigawa. Facebook will be streaming the fight between Norifumi Yamamoto vs. Demetrious Johnson. The other three bouts on the preliminary card are Paul Taylor vs. Gabe Ruediger, Kyle Kingsbury vs. Ricardo Romero and Mike Pierce vs. Kenny Robertson.
More below this ad from our sponsor SBG Global (in business since 1999)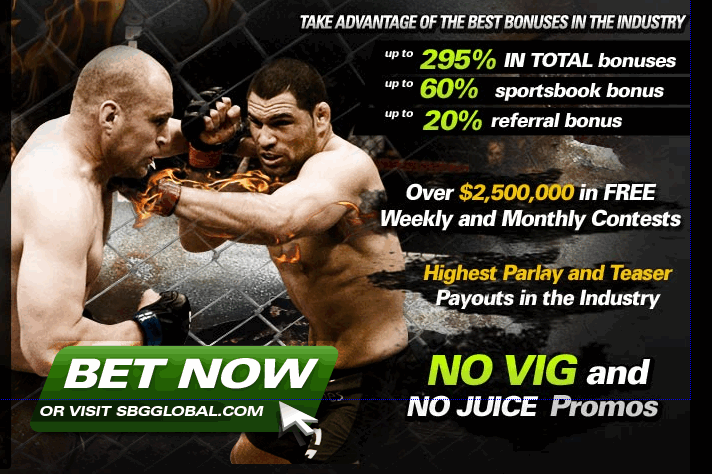 The main event is a middleweight championship bout between Belfort and Silva.  It will be the 9th consecutive title defense for Silva.  There is some debate as to whether Belfort even deserves a title shot but he is getting one and he is not without a chance. Belfort has the power to hurt Silva and there is always the question of just how motivated Silva will be.  When he gives a full effort there is no one better than Silva but rarely do we get to see that. Silva hasn't lost in seven years and sometimes he simply looks disinterested.  Reports have Belfort wanting to turn this fight into a slugfest and if that happens, Belfort is likely to lose.  You don't want to wake a sleeping giant and Silva has the ability to crush any fighter when motivated.
The fight bettingof the night may be the one between Ryan Bader and Jon Jones. UFC President Dana White has already said that this one should be very good. Bader is a beast and could cause Jones some trouble but Jones has a huge reach and great wrestling skill so it is questionable whether Bader ever gets his chance.
Here are the main event odds at SBG Global.com:
Silva -280 vs. Belfort
Franklin -165 vs. Griffin
Jones -350 vs. Bader
Torres -380 vs. Banuelos
Ellenberger -350 vs. Rocha