Gambling911.com has your eSports betting odds for the CS WESG 2017 Asia Pacific, DaddySkins Cup, DOTA ESL One Katowice, Overwatch League Season 1 and more.  BetOnline accepts many forms of cryptocurrencies to get you started.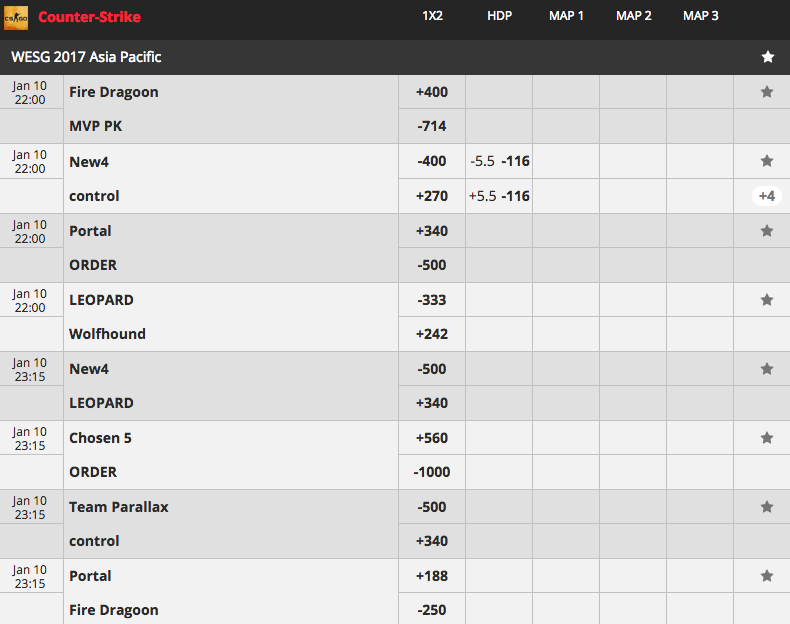 The 2nd World Electronic Sports Games (WESG) Asia Pacific Finals, scheduled to take place on January 11-14 in Jiaozhou, east China's Shandong Province, will decide 44 slots for WESG Grand Final.  PLEASE NOTE DATES AND TIMES AS EVENTS KICK OFF WEDNESDAY EAST COAST STANDARD TIME
Teams and players from 24 countries and regions will compete for titles and a prize pool of 279,800 US dollars.
WESG, an e-sports tournament held by Alisports, features games like Counter Strike: Global Offensive, Hearthstone, DOTA 2 and Starcraft II. In 2017, WESG set up two events especially for women, including Counter Strike: Global Offensive and Hearthstone.
In December 2017, Jiaozhou municipal government and Alisports jointly held a press conference to declare strategic cooperation in Jiaozhou, inclduing the WESG APAC final.  ALL BETTING AVAILABLE AT BETONLINE HERE
Wednesday 10th January 2018

DOTA2

Kinguin (1/7)

 

Singularity (13/2)

 

PENTA Sports (2/9)

 

Team Doggie (15/4)

 
PLACE BETS HERE
 
Overwatch League Season 1
Overwatch League Season 1
Overwatch League Season 1
Overwatch League Season 1
- Alistair Prescott, Gambling911.com