Texas Longhorns vs. Kansas Jayhawks Betting Odds
Published on:
Nov/14/2008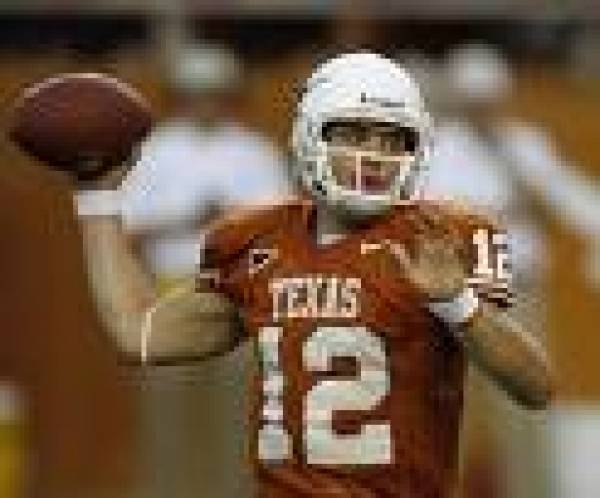 The Texas Longhorns vs. Kansas Jayhawks betting odds opened at Texas -14 as the road favorite.  Not that Kansas is all that bad.  They do have a winning record of 6-4.  It's just that the Longhorns are 9-1 and ranked number 5 in the nation.
Who wants to lay 14 points on a road favorite?
Well, actually Texas is 5-1 in this series when we factor in the current 13 ½ point spread found at Sportsinteraction.com 
Yahoo Sports points out the following regarding this Texas team:
Colt McCoy remains one of the most efficient quarterbacks in the country, completing 78% of his passes. Defensively, the Longhorns rank 60th nationally, which almost makes them stifling in the pass-happy Big 12. And Mack Brown remains one of the best coaches in the land, though perhaps his colleagues beg to differ based on any jaded feelings reflected by their rankings. Frankly, Texas is hurt not playing another strong opponent down the stretch. They sleepwalked through a Nov. 8 victory against Baylor and now close with a Nov. 15 trip to Kansas and a Nov. 27 home game against Texas A&M.
In addition, the nonconference schedule Texas played may be coming back to bite them in the computer rankings that comprise another component in the BCS formula. Maybe those rankings, where Texas still managed to climb into third on Nov. 9, can serve as motivation, especially with a three-way tie in the South Division still a possibility.
Meanwhile Kansas quarterback Todd Reesing is tied with Missouri's Chase Daniel for the conference lead with 10 picks this year.
Reesing still ranks 16th nationally in passing efficiency, and belongs to a conference that features five quarterbacks ranked among the top seven in that category. One of those standouts, Colt McCoy, leads Texas into this game with the Jayhawks.
This has all the makings of a double digit blowout based on both past history and current performance by both teams.  But we posed the question before:  Who would want to lay 14 points on a road favorite?  Not us here at Gambling911.com.
---
Don Shapiro, Gambling911.com