The Ronda Rousey Amanda Nunes Cheat Sheet for Bettors
Published on:
Dec/29/2016
ESPN.com has released its Ronda Rousey Amanda Nunes Cheat Sheet ahead of Friday's big UFC 207 fight with Amanda Nunes.  It is Rousey's first appearance since losing to Holly Holm in November 2015. 
Ronda Rousey vs. Amanda Nunes Betting Odds
Rousey was coming in as a -140 favorite, Nunes at +120 with the OVER/UNDER 1.5 UNDER -225 and the OVER paying just shy of 2/1 should that materialize.
Method of Victory odds appear by scroll down.
The Ronda Rousey Mystery
Brett Okamoto of ESPN.com writes: It has been 410 days since Rousey lost to Holm, and one could argue that in all that time, she has never really answered that question. What does she really want?
Okamoto notes that Rousey's appearances since the loss to Holm have been limited and in controlled environments.  Some were even left questioning her mental state following an appearance on "Ellen" in which she cried and suggested she contemplated suicide following the loss to Holm
He writes:
In addition to its obsession with looking ahead, another trait of this sport is that it loves the truth. Does Rousey truly want to step in there again? Or is she doing it because she has to? Is she fighting for herself or the idea of some legacy she feels is expected of her? We'll know for sure on Friday.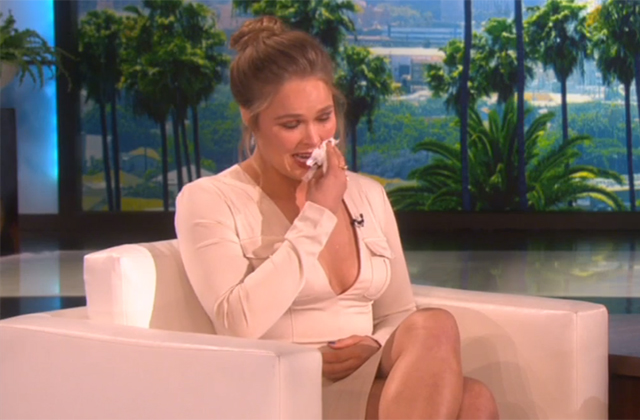 Rousey in tears on "Ellen" show, one of her limited appearances since losing to Holly Holm last November
The Amanda Nunes Factor
From ESPN.com:
Nunes, 28, says she has watched Rousey's only professional loss closely and praised Holm's technique in that bout -- but she isn't necessarily tailoring her style around that one fight. Originally from Brazil now training out of American Top Team in South Florida, Nunes says she has always possessed the skills to defeat Rousey, she's just now getting the chance to show it.
"I think she's going to be more careful in this fight, and I really think she's going to want to take me down," Nunes said. "I'm a black belt in Brazilian jiu-jitsu. I've been training it for 10 years. I know everything she's going to bring."
Key Stats Cheat Sheet
*Nunes: 13-4 record (6-1 UFC); making first defense of UFC bantamweight title she won from Miesha Tate at UFC 200
*Nunes: Nine wins by knockout, three by submission
*Nunes: Four-fight win streak dating to March 2015
*Nunes: Ten of 13 wins in first round (five in UFC, tied for most in women's bantamweight division history)
*Nunes: Outlanded opponents 167-78 in significant strikes, according to FightMetric (five fights with fewer than 10 significant strikes absorbed)
*Rousey: 12-1 record (6-1 UFC); first fight since losing title to Holly Holm in November 2015
*Rousey: Three wins by knockout, nine by submission (all by armbar)
*Rousey: Eleven of 12 wins in first round (five in UFC, tied for most in women's bantamweight division history)
*Rousey: Outlanded by Holm 38-17 in significant strikes (plus-42 in UFC career before Holm fight) according to FightMetric
*Rousey: Only fighter in women's bantamweight division to defend title (Holm and Tate lost in first defense)
The Verdict
Okamoto puts forth the argument it's all about style when talking about Women's UFC matches.
Rousey's title reign consisted of her moving straight forward and throwing punches to establish the clinch, where her world-class judo took over, he writes.
The style edge he agrees goes towards Rousey but this is a favorable matchup for Nunes.
Rousey showed no quit in the loss to Holm and an ability to take a punch, but she was also fairly traumatized by the knockout. How will she respond if Nunes lands a big shot early?
Okamoto predicts a 2nd round TKO by Nunes, the payout 11/8 or $11 for every $8 bet.
Ronda Rousey vs. Amanda Nunes Method of Victory Odds
Method of Victory Odds Vary By Book
Ronda Rousey by KO TKO Submission or Disqualification 5/6
By KO TKO or Disqualification 14/5
Ronda Rousey by Submission 5/4
Amanda Nunes by KO TKO Submission or Disqualification 11/8
Amanda Nunes by KO TKO or Disqualification 2/1
By Decision or Technical Decision 6/1
Ronda Rousey by KO TKO or Disqualification 6/1
Amanda Nunes by Submission 7/1
Ronda Rousey by Decision or Technical Decision 12/1
Amanda Nunes by Decision or Technical Decision 14/1
Draw or Technical Draw 66/1
- Tyrone Black, Gambling911.com