Restraining Order Against Shaq: Alexis Miller MySpace Page Found
Published on:
Aug/24/2008
Shaquille O'Neal must stay clear of an Atlanta woman who took out a restraining order against him this past Thursday according to news reports.
Fulton County Superior Court Judge Richard Hicks granted Alexis Miller's request Thursday after reviewing her allegations that the basketball player stalked her, threatened her with bodily harm and made harassing phone calls in which he breathed heavily into the phone before hanging up.
Miller is a 23-year-old hip-hop artist known professionally as Maryjane who claims that Shaq threatened to pay other acts large sums of money not to perform with her.
"It's been very difficult for her," said L. David Wolfe, Miller's Atlanta-based attorney. "Her fears are not only for herself but also the people around her." He said Miller, who has a young son, is "pretty traumatized."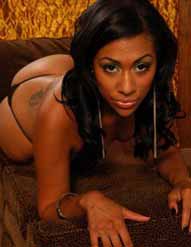 The court affidavit quotes an e-mail from O'Neal as saying, "I dnt no who the [expletive] u think u dealin wit u will neva be heard from one phone call is I gotta make now try me. Sho me."
Under terms of the temporary restraining order, O'Neal is prohibited from having any contact or even coming within 200 yards of Miller or her 19-month-old son.
Miller's MySpace Page can be found here
....NBA Rookie of the Year odds are already up at SBG Global
41 Anthony Randolph +2000
42 Brandon Rush +1500
43 Brook Lopez +1500
44 Chris Douglas Roberts +2800
45 Darrell Arthur +3000
46 DeAndre Jordan +4000
47 Derrick Rose +250
48 Danilo Gallinari +1800
49 DJ Augustin +1200
50 Donte Greene +2200
51 Eric Gordon +600
52 Jerryd Bayless +1000
53 Joe Alexander +1500
54 Kosta Koufus +3000
55 Kevin Love +625
56 Michael Beasley +140
57 OJ Mayo +350
58 Roy Hibbert +2200
59 Russell Westbrook +1200
60 Field +185