Randy Couture vs. Lyoto Machida UFC 129 Odds
Published on:
Apr/29/2011
Randy Couture vs. Lyoto Machida UFC 129 odds have Machida a pretty massive favorite at -350 at SBG Global coming into Saturday's big fight.   On the other end of the spectrum, a Randy Couture win would pay out $25 for every $10 bet at SBG Global.
Machida may be the favorite coming into this bout but he has lost two straight.
"I've watched him fight over the years, the last couple of years especially, and I just felt like everybody was having trouble solving the puzzle, solving the problem," Couture said.
Couture is set to retire (again) following this fight, win or lose. 
"I just felt like it was time. It's been coming on."
For his part, Machida has shown great respect for the retiring fighter.
Machida said he felt privileged.
"It's an honour to fight someone like Randy Couture," he said. 
UFC 129 will no doubt attract plenty of Canadian bettors.  Seven of the fights pit Canadians against fighters from the US.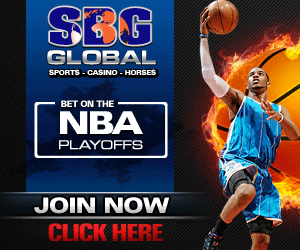 Current odds on Randy Couture vs. Lyoto Machida available at SBG Global for UFC 129 (subject to change, lock them in here)
Saturday, April 30, 2011
UFC 129: John "The Bull" Makdessi vs. Kyle Watson

6:00 PM

5201

John Makdessi

-200

-

-

5202

Kyle Watson

+160

-

-

UFC 129: Pablo "The Scarecrow" Garza vs. Yves "Tiger" Jabouin

6:05 PM

5203

Pablo Garza

+140

-

-

5204

Yves Jabouin

-170

-

-

UFC 129: Ivan "Pride of El Salvador" Menjivar vs. Charlie Valencia

7:00 PM

5205

Ivan Menjivar

-185

-

-

5206

Charlie Valencia

+155

-

-

UFC 129: Jason "The Athlete" MacDonald vs. Ryan Jensen

7:00 PM

5207

Jason MacDonald

+105

-

-

5208

Ryan Jensen

-135

-

-

UFC 129: Claude "The Prince" Patrick vs. Daniel "Ninja" Roberts

7:05 PM

5209

Claude Patrick

-155

-

-

5210

Daniel Roberts

+125

-

-

UFC 129: Jake "The Juggernaut" Ellenberger vs. Sean Pierson

9:00 PM

5211

Jake Ellenberger

-215

-

-

5212

Sean Pierson

+175

-

-

UFC 129: Nate Diaz vs. Rory MacDonald

9:05 PM

5213

Nate Diaz

-115

-

-

5214

Rory MacDonald

-115

-

-

UFC 129: Jason "The Hitman" Brilz vs. Vladimir "The Janitor" Matyushenko

10:10 PM

5215

Jason Brilz

-125

-

-

5216

Vladimir Matyushenko

-105

-

-

UFC 129: Benson "Smooth" Henderson vs. Mark Bocek

10:15 PM

5217

Benson Henderson

-130

-

-

5218

Mark Bocek

+100

-

-

UFC 129: Lyoto "The Dragon" Machida vs. Randy "The Natural" Couture

10:45 PM

5219

Lyoto Machida

-350

-

-

5220

Randy Couture

+250

-

-

UFC 129 - Featherweight Championship: Jose "Scarface" Aldo vs. Mark "The Machine" Hominick

11:00 PM

5221

Jose Aldo

-500

-

-

5222

Mark Hominick

+300

-

-

UFC 129 - Welterweight Championship: Georges "Rush" St. Pierre vs. Jake Shields

11:30 PM

5223

Georges St. Pierre

-500

-

-

5224

Jake Shields

+300

-

-
Saturday, May 28, 2011
-Tyrone Black, Gambling911.com
Follow breaking headlines around the clock at Gambling911.com Twitter Here