Carrie Stroup here with the latest odds to win the NHL Atlantic Division 2011 for the Pittsburgh Penguins, Philadelphia Flyers, New Jersey Devils, New York Rangers and New York Islanders.  All odds courtesy of Sportsbook.com, where everybody bets online.
PITTSBURGH PENGUINS
2010-11 record: 49-25-8, <b>106 points, 4th place in Eastern Conference
Odds to Win 2012 Eastern Conference: 7-to-2
Odds to Win 2012 Stanley Cup: 8-to-1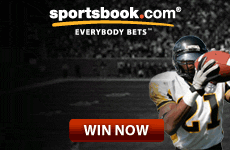 To say that last year's version of the Pittsburgh Penguins was a group of overachievers would be a huge understatement, what with the three-headed monster of centers Sidney Crosby (concussion), Evgeni Malkin (ACL), and Jordan Staal (foot infection, hand) missing a combined 120 regular season games. To put the significance of those injuries in perspective, Sid, Geno and Staal accounted for an astounding 39% of the team's goals in 2009-2010.
And even without these studs, the Pens (106 points) not only tied Philadelphia for the most points in the Atlantic Division, but finished just one point behind the conference-leading Washington Capitals—earning Head Coach Dan Bylsma a well-deserved Jack Adams Trophy for league's best coach. Among the three, only Staal played in a game after February 5. The shorthanded Pens put up a valiant effort, but ultimately fell in 7 games to the Tampa Bay Lightning.
Malkin and Staal are healthy again and will rejoin a solid supporting cast up front that includes physical two-way forwards like Chris Kunitz, Tyler Kennedy and the NHL's biggest villain—Matt Cooke. Trade deadline acquisition LW James Neal (22 goals) has the potential to become an elite power forward this season playing alongside Malkin.
The Pens still feature one of the league's premier defenses, with the superb top-four of Kris Letang (50 points), Brooks Orpik (194 hits), Zbynek Michalek (149 blocked shots) and Paul Martin (24 points). And between the pipes, the acrobatic Marc-Andre Fleury (2.32 GAA)—and his soul patch—will keep them in almost every game.
The biggest question facing the Pens—and many would argue the entire NHL—remains the health of Sidney Crosby. It's been over nine months since Crosby suffered a concussion in the Winter Classic, and the fact that he is still experiencing concussion-like symptoms is extremely troubling. After a press conference in early September, it seems doubtful Sid will be ready to start the season. And because of the unpredictability of head injuries, there truly is no timetable for his return.
With the future of the team's best player uncertain, it certainly makes placing a futures bet on the Pens a challenging proposition. And it says a lot about the depth of the Penguins when Vegas still places them as three-way, 8-to-1 favorites with the Capitals and Bruins. They know who you want to bet on, and because the Pens feature Crosby—healthy or not—they are the ultimate public team.
Having said that, compared to Washington and Boston, the Penguins have the most betting value among the 8-to-1 teams for the very same reasons that make them a risky wager. It is possible that Crosby misses the whole season, but if he returns, the Pens odds shoot up more into the neighborhood of 5-to-1. And THAT, is incredible value.
PHILADELPHIA FLYERS
2010-11 record: 47-23-12, 106 points, 2nd place in Eastern Conference
Odds to Win 2012 Eastern Conference: 7-to-1
Odds to Win 2012 Stanley Cup: 12-to-1
Philadelphia fans have boasted a long-standing reputation for lacking patience when it comes to their professional sports teams. Luckily for the Philadelphia Flyers, they have a general manager in Paul Holmgren who fits the city's persona to a T.
Just one year removed from a Stanley Cup Finals appearance, the Flyers were swept in the second round of the playoffs by Boston, the eventual Stanley Cup champions. And Holmgren pulled off a couple of the most shocking trades of the summer, sending team captain C Mike Richards (66 points) to the Los Angeles Kings and Jeff Carter (36 goals)—the Flyers' top goal scorer over the last three seasons—to the Columbus Blue Jackets.
In return, the Flyers received a bevy of young talent on the front end. A pair of 22-year old RWs— Jakub Voracek (46 points) and Wayne Simmonds (30 points) should both see time on the top two lines this year and C Brayden Schenn (5th overall pick in 2009)—LA's top prospect—will compete for a full-time roster spot against 18-year old C Sean Couturier—the 8th overall pick acquired from Columbus.
So the future certainly looks bright in Philly, but the present is a bit of a mystery. Last year's top point-getters RW Claude Giroux (76 points) and C Danny Briere (68 points) will become the focal points of an offense that ranked third in the league in goals last year (3.12 per game). With all the moves, Holmgren is also putting a lot of faith in young LW James Van Riemsdyk (40 points) who was absolutely sensational in the playoffs last year (7 goals in 11 games).
Not much changed with the defense, which remains one of the league's stingiest units, featuring a Kimmo Timonen (175 blocked shots), Matt Carle (40 points), Braydon Coburn (133 blocked shots) and a healthy Chris Pronger. 
The biggest indicator for success this year—and one that has plagued the Flyers for years—will be in goal. Holmgren made arguably the biggest free agency splash of the offseason by signing G Ilya Bryzgalov (.921 Save Pct.) to a nine-year, $51 million contact. On paper, this gives the Flyers the long-term solution between the pipes they have so desperately needed. But, considering the length of the contract—Bryz will be under contract until he is 40—if he's anything less than spectacular, the Flyers take a huge hit against the salary cap. Not to mention the wrath Bryzgalov will feel from the Philly faithful.
It is tough to know how the Flyers will respond to the losses of Carter and Richards. Head Coach Peter Laviolette loves to balance his lines with a nice blend of scoring touch and ruggedness, which has always made the Flyers difficult to defend. Laviolette will have a much tougher task this season as his squad slowly gels.
If you could make a futures play on the 2012-13 Cup champion, the Flyers would be an incredible bet. But there is simply too much youth and too many question marks on this roster to be confident they will hoist the Cup this coming June. 12-to-1 may seem tempting given their previous success, but it's a pass for us.
NEW YORK RANGERS
2010-11 record: 44-33-5, 93 points, 8th place in Eastern Conference
Odds to Win 2012 Eastern Conference: 20-to-1
Odds to Win 2012 Stanley Cup: 35-to-1
On July 1, NHL Free Agency officially opened, and if you had decided to rename it Brad Richards Sweepstakes Day, few teams around the league would have disagreed with you.
The hottest free agent of the summer landed in The Big Apple, cashing in big-time with a nine-year, $60 million contract. The dynamic center Richards (28 goals, 77 points) will instantly spark a Rangers offense that has been the definition of mediocre in the six seasons of the Post-Lockout Era. Richards will also be reunited with Head Coach John Tortorella, with whom he won a Stanley Cup in 2004 with the Tampa Bay Lightning.
With the Richards acquisition, RW Marian Gaborik (22 goals) finally has an elite pivot to feed him the puck "if'he can stay healthy (which is always a big "if" for the Slovakian sniper). The rest of the offense features a nice blend of grit and scoring, with homegrown centers Brandon Dubinsky (54 points) and Derek Stepan (45 points). And in mid-September, the team named RW Ryan Callahan (48 points)—he of U.S. Olympic glory—as its new captain. All of these players should see increased offensive production this season with Richards and Gaborik attracting opponents' top defenders.
Despite the exciting offseason, the face of the franchise remains G Henrik Lundqvist (.923 Save Pct.). King Henrik posted a league-high 11 shutouts last season, and many would argue he single-handedly propelled the Rangers to the playoffs. In front of him will be the strong defensive pairing of Marc Staal and Dan "don't call me Joe" Girardi, who each finished among the top-15 in the league in Time On Ice average (Staal 25:44, Girardi 24:35).
The fact that the Rangers were able to make the playoffs last year in spite of their subpar offensive production (16th in goals) is impressive in its own right. Tortorella has always done an exceptional job of getting the most out of his players. He demands accountability from his players, and as a result, the Rangers rarely get out-worked.
With an improved offense and a healthy Callahan, the Broadway Blueshirts will be a tough out in the postseason. Lundqvist is capable of stealing a series on his own.  But outside of Staal and Girardi, the blueliners are very young and totally unproven. You need stellar defensemen to win 16 games in the playoffs, and the Rangers just aren't there yet. Despite favorable odds, it's a pass for us.
NEW JERSEY DEVILS
2010-11 record: 38-39-5, 81 points, 11th place in Eastern Conference
Odds to Win 2012 Eastern Conference: 15-to-1
Odds to Win 2012 Stanley Cup: 25-to-1
After signing world-class sniper Ilya Kovalchuk (31 goals) to one of the most controversial contracts (15-years, $100 million) in NHL history, expectations were sky-high for the Devils heading into the 2010-2011 campaign. New Jersey was predicted to contend for the Stanley Cup.
Things took a turn for the worst rather quickly in Newark, however, with an abysmal 10-29-2 start to the season. In that span, superstar winger Zach Parise suffered a season-ending knee injury, first-year head coach John MacLean was fired, and the Devils were dead last in the NHL.
Things got so bad in New Jersey that general manager Lou Lamoriello practically had to beg legendary coach Jacques Lemaire, who had retired as Devils' bench boss less than eight months earlier, to return to the helm. And once he did, things turned around quickly for the Devils, who finished the season with one of the league's best records at 28-10-3.
Now new head coach Peter DeBoer takes over after three seasons in Florida. And with Kovalchuk fully acclimated to his new digs, along with Parise back healthy, the Devils hope to continue their hot streak from the end of last year. LW-turned center Patrik Elias (62 points) and C Travis Zajac (44 points) also return to an offense that ranked last in the league in goals scored (2.09 per game). Expect Parise to put up huge numbers as he enters the final year of his contract, helping to bolster the anemic offense.
The defense, which ranked ninth in goals against last season (2.52), is anchored by the hard-hitting Anton Volchenkov and the always-steady Henrik Tallinder. Also look for New Jersey's first round draft pick, D Adam Larsson (4th overall), to compete for a spot on a backline desperate for more depth.
This could also be the final season for legendary netminder Martin Brodeur (.903 Save Pct.). At age 39, Brodeur—who holds nearly every notable NHL record for goaltenders—is in the final year of his contract and started just 56 games last year (a far cry from his usual 70+ starts). He has missed extended time due to injury over two of the past three seasons, and with an average defense in front of him, this could be the end of the future first-ballot Hall of Famer's career.
It will be a tough task for the Devils to build on last year's spectacular second half as they adjust to yet another new bench boss. Defense and goaltending has long defined this proud franchise, and if they continue their patented trap system, they will definitely compete for a playoff spot. But overall, too many other teams in the East improved over the summer to expect New Jersey to make any kind of run at the Cup. It's a definite pass for us.
NEW YORK ISLANDERS
2010-11 record: 30-39-13, 73 points, 14th place in Eastern Conference
Odds to Win 2012 Eastern Conference: 25-to-1
Odds to Win 2012 Stanley Cup: 50-to-1
If you feel as if the New York Islanders have been stuck in a continuous rebuilding mode, well… you're not alone. The Isles have finished in last place in the Atlantic each of the past four seasons.
Like division rival New Jersey, the Islanders fired their head coach (Scott Gordon) just 14 games in after posting a paltry 4-8-2 record out of the gate. Assistant Jack Capuano took over and helped steer New York to a somewhat respectable 26-31-11 finish.
Unfortunately for fans on Long Island, this summer brought about some harsh news for Islanders faithful when voters in Nassau country rejected a proposal for a new arena to replace The Dump otherwise known as Nassau Coliseum. Without a new arena, the possibility of relocation is a very real one.
The players on the ice will hope to make the best of their time in New York, and the Islanders certainly have some great young talent who showed promise last season. None more promising than Michael Grabner (34 goals), who led all rookies in goals last season, and finished second in the voting for the Calder Memorial Trophy awarded to the league's top first-year player. The offense also features 2009 first overall draft pick John Tavares (team-high 67 points). In mid-September, Tavares signed a six-year, $33 million extension to remain with the Islanders. With the new contract, there's no doubt who general manager Garth Snow considers to be the face of this franchise.
The defense allowed the fourth-most goals in the league (3.15 per game), but returns its best player in Mark Streit who missed the entire 2010-11 campaign with a torn labrum. Streit returns to a backline that features two very talented young guns: Andrew MacDonald (27 points) and Travis Hamonic (26 points).
As for goaltender Rick DiPietro, the soap opera is sure to continue into 2011-12. DiPietro, who signed a ridiculous 15-year, $67.5 million contract back in 2006, has easily been the biggest disappointment in the league due to his never-ending saga of injuries. Last year's injury reached a whole new level on the spectrum of silliness—he suffered facial fractures from a goalie fight with Penguins backup Brent Johnson.
It would take more than a miracle for the Islanders to win the Stanley Cup this season. They definitely have young talent, but they are years away from contending (stop us if you've heard that line before). For Islanders fans, a playoff appearance would be a terrific season. Expecting anything else out of this group is, quite simply, unrealistic.

- Carrie Stroup, Gambling911.com Senior Reporter