The online sportsbooks have been slow to post NIT Tournament 2010 odds even though Gambling911.com readers have been hitting up the site in droves to find information related to the NIT.
SBG Global has published the games but was still in the process of posting actual odds on each.  They were expected to have NIT Tournament 2010 odds up by mid to late afternoon. 
This year's NIT Tournament is especially riveting as both UConn and North Carolina are participating.   One tournament's loss is another's gain as these two teams add power to the NIT.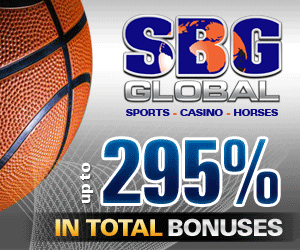 "I just didn't do as good a job with this club this year as I needed to," coach Roy Williams said Thursday, after the Tar Heels lost to Georgia Tech in their ACC tournament opener.
North Carolina (16-16) hadn't missed the NCAA tournament since 2003, before Williams arrived in Chapel Hill. And Williams hadn't missed the big party since 1989, his first season at Kansas, when the school was ineligible due to NCAA violations.
"I couldn't get the right buttons pushed," said Williams, whose Tar Heels were ranked No. 6 early in the season but lost 10 of 12 at one point. "I didn't know what those buttons were."
The NIT begins Tuesday on campuses with the championship April 1 at Madison Square Garden.
The No. 1 seeds were Illinois, Arizona State, Virginia Tech and Mississippi State, all teams that spent Sunday hoping for NCAA tournament bids.
Mississippi State will open the tournament against in-state rival Jackson State.
Get Up to 295% in Total Bonuses from SBG Global!  Use your Visa or Mastercard.   Other methods for opening an online betting account also available upon request.  Use bonus code GAMBLING911
Don Shapiro, Gambling911.com