NHL: Montreal vs. Pittsburgh 7:00E Betting Preview
Published on:
May/12/2010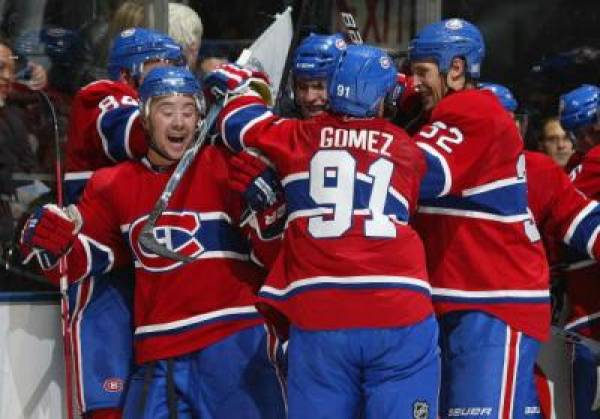 Montreal rubbed out the team with the best record in the NHL in the first round of the playoffs and is 60 minutes away from knocking off the defending Stanley Cup champions ...all of this, of course, as the eighth seed. For Wednesday night's decisive Game 7, however, the Canadiens will have to come up with a major upset as +210 underdogs according to Sportsbook.com.
Long shot bettors have to be salivating at the thought of cashing a +365 series winner on Montreal, who once again takes a better team to the max and couldn't be more confident and feeling less pressure than what they are.
"Game 7, it's all about passion, details, and the team that's going to want the game the most is going to win," Canadiens forward Maxim Lapierre said.
Montreal has been like the guest that doesn't know when to go home, hanging around to the point of annoyance and is 4-0 facing elimination. The Habs are a +210 money line underdog at Sportsbook.com, tell them something new. With a 7-6 record in the postseason, Montreal is inconceivable +11.55 units.
Pittsburgh can say they don't feel the pressure, but that would not be truthful. Twice in their history the Penguins were decided home favorites heading into a Game 7, however they lost in 1993 and 1996. "This is a challenge for us," Penguins captain Sidney Crosby said Tuesday. "It's 3-3. There are some views out there this should have been an easy series. But we're not losing. It's tied. They're here."
The Pens are 30-8 at home after suffering a defeat, nonetheless, who is the better team right now? Montreal goalie Jaroslav Halak, has outplayed his Pittsburgh's counterpart Marc-Andre Fleury. If the Conn Smythe Trophy for Stanley Cup Playoffs most outstanding player was being handed out today, Sidney Crosby or Evgeni Malkin wouldn't be in the conversation. The most amount of talk would center on Halak or Mike Cammalleri, who has six goals for the Canadiens.
"No, not at all. For us, it is the reality," Cammalleri said when asked about if his team finds these circumstances unbelievable. "If you pinch yourself, you are beat. I remember when you first come into the league, if you start sitting around and staring in awe and catching flies, you'll be out pretty quick.
"Now, we belong and we're having fun. Now, we have an opportunity to go knock these guys off in Game 7, so let's go enjoy it."
Head over to Sportsbook.com to bet tonight's NHL Playoff games.
NHL: Boston at Philadelphia 7:00E  TSN
The Flyers were nearly swept in four games by Boston, but an overtime goal and extremely impressive road shutout has them three periods away from evening up this series at 3-3 and having the Flyers going after history seldom seen. To continue along this improbable path, all Philly needs to do is win Wednesday's Game 6 as a -135 favorite. Sportsbook.com has all the betting action covered for tonight's intriguing contest.
Forget the pipes and netting on the Philadelphia goal, what they really need is a revolving door. Netminder Michael Leighton was pressed into service in Game 5 after goalie Brian Boucher sprained MCL in his left knee, forcing Leighton into action as the seventh different player between the pipes with the heavy pads for the Flyers.
Leighton and Boucher became just the second pair to pitch a shutout in Stanley Cup playoffs history. Leighton hadn't played since Mar. 16 because of a sprained ankle and was put on the active roster for the first time since then for the last contest. "My legs were shaking a little bit, I was nervous," Leighton said. "Once I made a few saves, you kind of forget about that and just get focused. It kind of goes away."
Off their 4-0 beat down of Boston, Philly has gone from a team just hoping to extend the series to one that envisions a seventh game with the momentum of three consecutive triumphs. The Flyers are 7-3 with day between games and have never given up.
"Even when we were down 3-0, we had the feeling we could win the series," Flyers forward Simon Gagne said. "We could win some hockey games against that team."
For the Bruins, losing the scoring prowess of David Krejci and Marco Sturm to injury in this series might be finally catching up to the second lowest scoring squad during the regular season. Boston players and coaches were disconsolate about something else after the white-washing, the lack of effort.
"We lost battles from start to finish," Bruins coach Claude Julien said. "They were the hungrier team tonight (Monday), and when that happens, you get those kinds of results."
Boston is 7-2 in road games after allowing four goals or more this year and comprehends its situation. "They came in and slapped us in the face," said Bruins veteran Mark Recchi. "Now we have to go there and realize that this is a series now."
Philadelphia is -135 ML home ice favorite, with total Ov5. The Flyers are on 6-1 run as chalk and 7-2-1 OVER after permitting two or fewer goals. Boston has won last four after compiling two or fewer pucks in the net and is 11-2 UNDER playing into double revenge.
Philadelphia is 2-6 vs. the Bruins at the Wachovia Center, but might have destiny on their side to force one more second round contest.
Make Sportsbook.com the place for your NHL Playoff wagering.
 MLB: Baseball bettors jumping on Giants
Whether it's at home or on the road, the San Diego Padres have gotten the best of the San Francisco Giants this season. The first-place Padres look for a fifth straight win over the Giants on Wednesday night. After sweeping a three-game set from the Giants at home April 19-21, San Diego (20-12, +9.4 units) won 3-2 on Tuesday at San Francisco in the series opener between the NL West frontrunners. For tonight's game, Sportsbook.com shows the Giants as -172 favorites, after opening the line at -145.
Three of the Padres' four wins over San Francisco (18-13, +3.8) have been decided by one run, moving them to 14-6 in night games.
David Eckstein had a two-run single and four relievers held the Giants scoreless over 4 1/3 innings as San Diego improved to 3-1 on a six-game road trip. "We've been feeling good," said Heath Bell, who recorded his ninth save to secure San Diego's third straight win at San Francisco.
San Diego has allowed six runs against the Giants this season, including two by a bullpen that's among the best in the majors with a 2.58 ERA. The Padres are 16-6 with a hot bullpen whose WHIP is under 1.200 the last 10 games this season.
That solid pitching has enabled the Padres to provide just enough offense to keep beating the Giants. San Diego has scored 12 runs and hit .235 against the Giants this season. The Padres were the recipient of 12 San Francisco walks but stranded 15 runners Tuesday. "We want to get them in," San Diego manager Bud Black said.
Eckstein, however, is 7 for 13 in his last four games and batting .318 with six RBIs in his last six against the Giants.
The Padres scored all their runs Tuesday against Barry Zito, who allowed seven walks. They could face a stiffer challenge with Matt Cain (2-1, 2.79 ERA, 1.009 WHIP) on the mound.
After giving up seven runs in his first two starts, Cain has yielded six in his last four and two with five hits in 15 innings to win his last two outings.
Coming off an eight-inning, one-hit effort against Colorado on May 1, Cain took a no-hitter into the sixth before allowing two runs and four hits in seven innings of a 6-3 win at Florida on Thursday. "What a job he did," manager Bruce Bochy told the Giants' official website. The right-hander and his teammates are 11-3 when he pitches off a loss.
Cain is 4-6 with a 2.91 ERA in 19 starts versus the Padres. He allowed two runs in six innings of a 3-2, 10-inning loss at San Diego on April 19.
San Diego's Clayton Richard (1-2, 3.34, 1.543), who gave up one run in 6 1/3 innings in that game against Cain and the Giants last month, takes the ball in this contest. The left-hander, whose 0-1 with a 6.10 ERA in two starts against San Francisco, gave up three runs and five walks in five innings of a 6-5, 12-inning loss to Colorado last Wednesday.
"It was not having command of my fastball. And when I don't have that, it's going to be a rough slide," Richard told the Padres' official website. Richard is an after dark hurler with San Diego 15-6 when he takes the mound with the lights on.
Aubrey Huff is 4 for 7 against Richard and had two hits with an RBI on Tuesday for the Giants, who've lost three of four. Huff is batting .417 with nine RBIs in his last 10 games.
Sportsbook.com has seen almost all one-sided action, as the Giants went from -145 favorites to -172 on the money line with total Un7.5. San Fran is 24-12 vs. NL starting pitcher whose ERA is 3.50 or better and 17-5 OVER against clubs in their league allowing 3.8 or less runs a game on the season. When the total falls into that range, Richard is 12-5 when the number is 7 to 8.5. (Padres Record)
This battle for the top spot in the NL West has 10:15 Eastern start and is available in both local markets as well as MLB.TV and San Diego is 24-13 OVER as a road underdog of +150 or more.