Carrie Stroup here with your NHL hockey betting breakdown for October 6, 2011. 
PHILADELPHIA FLYERS (47-23-12, 106 points in 2010-11) at BOSTON BRUINS (46-25-11, 103 points in 2010-11)
Line & Total: Boston -140, Philadelphia +120 & 5.5 under -130
TD Garden will be rockin' on Thursday night as the new-look Flyers head to Boston to face the Stanley Cup Champion Bruins to open the 2011-12 NHL regular season.
This year's version of the Flyers will look completely different—with leading goal scorer Jeff Carter (36 goals) and team captain Mike Richards (66 points) traded during the offseason. Boston, on the other hand, returns nearly every key player from its championship roster—most notably Conn Smythe Trophy winner Tim Thomas (1.98 GAA, .940 SV Pct. in playoffs). It's hard to imagine a better atmosphere for hockey on Thursday night than when the Bruins raise a Stanley Cup banner to the rafters for the first time since 1972. The crowd will be raucous, and there's no way the home team disappoints in this one.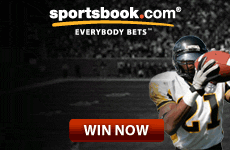 The upstart B's swept Philly in the Eastern Conference Semifinals on their way to the Cup last season, just one year after blowing a 3-0 series to the Flyers in the same round the year before. The Bruins also won the regular-season series between the two teams, going 3-0-1 against Philly.
The losses of Richards and Carter will certainly affect the Flyers' forward depth, but they still return the top two point-getters from last season: C/RW Claude Giroux (76 points) and C Danny Briere (34 goals, 34 assists). Expect 22-year-old LW James van Riemsdyk (40 points) to break out this season with increased ice time among the top-six.
Philly's defense remains as stout as any team in the league—led by Chris Pronger (25 points in 50 games), Matt Carle (40 points, 157 blocked shots) and Kimmo Timonen (37 points, 175 blocked shots). Free-agent pickup Ilya Bryzgalov (.921 SV Pct.) finally gives the Flyers an elite goaltender—something they've lacked for many years.
The Bruins offensive success is predicated on an extremely balanced attack; with their top three lines all adding to the score sheet. Last year's top four leading scorers—LW Milan Lucic (62 points), RW Nathan Horton (53 points) and centers David Krejci (62 points) and Patrice Bergeron (57 points)—are as young as they are talented: none of the four are older than age 26.
The defense—led by towering captain Zdeno Chara (44 points, 153 hits)—ranked third in the NHL in goals allowed last season (195). Thomas might have had something to do with that as well.
PITTSBURGH PENGUINS (49-25-8, 106 points in 2010-11) at VANCOUVER CANUCKS (54-19-9, 117 points in 2010-11)
Line & Total: Vancouver -155, Pittsburgh +135 & 5.5 under -125
The second half of the opening night double-header has no shortage of star power—even though each team will be missing one of its best players.
There is still no timetable for the return of Penguins' captain Sidney Crosby, who is still experiencing concussion symptoms dating back to the Winter Classic. And the Canucks will be without Selke Trophy Winner Ryan Kesler—recovering from postseason hip surgery. The Canucks had the best home record in the NHL last season (27-9-5) and were 6-2-1 against Eastern Conference opponents at Rogers Arena. The Penguins, meanwhile, had the best record against Western Conference teams (11-4-3) of any team in the East.
In what could be a preview of the Stanley Cup Finals, this game's about as close as it gets. Because of home ice, we give the slight edge, which looks to make up for its last home game—a Game 7 loss in the Stanley Cup Finals. But because the odds are so terrible, the better play may be on the UNDER, with two elite goaltenders and each squad missing a key offensive player.
These teams usually play just once a year, and the Penguins won last year's meeting 3-1 in Pittsburgh. But the Canucks won each game in the previous two seasons (6-2 in '09-'10, 3-1 in '08-'09).
Until Crosby returns, there's no doubt that this is Evgeni Malkin's team. The Russian center returns to the ice for the first time since suffering a torn ACL on February 4. C Jordan Staal (30 points in 42 games) gives the Pens a dynamic one-two punch up the middle. Imagine how dangerous they'll be once Crosby returns.
The Pens still feature one of the league's best defenses, led by Kris Letang (50 points, 167 hits) and Zbynek Michalek (149 blocked shots). Letang's usual partner, Brooks Orpik (194 hits) will miss this game with a groin injury.
The Sedin twins—who combined for 208 points last season—will lead Vancouver's high-octane offense. LW Daniel Sedin (104 points, 1st in NHL) won the Art Ross Trophy last season, following in brother Henrik Sedin's (75 assists, 1st in NHL) footsteps, who won the award the year before.
Goaltender Roberto Luongo, who posted a stellar 2.11 GAA (2nd in NHL) and .928 SV Pct. (3rd in NHL), hopes to get off to another strong start following a disappointing performance in the Stanley Cup Finals. The Vezina Trophy finalist was pulled early in each of Vancouver's first three losses in the Finals.
- Carrie Stroup, Gambling911.com Senior Reporter