NASCAR Toyota-Save Mart 350 Betting Odds
Published on:
Jun/21/2013
Carrie Stroup here with your NASCAR Toyota-Save Mart 350 betting odds courtesy of Sportsbook.com where you can claim your FREE $100 CASH BONUS here.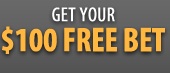 The NASCAR drivers take to the road, literally, Sunday when they tackle Sonoma's road course on Sunday for the Toyota-Save Mart 350. The course was originally constructed in 1968 as a 2.52-mile course, but was re-designed in 1998 to the current 1.99 miles, increasing the distance of the event to its current 218.9 miles covering 110 laps. The course has 10 turns with varying elevation changes. Turn 3a reaches 174 feet, while Turn 10 is the lowest elevation at a mere 14 feet. Since 1998, Jeff Gordon has five wins on this track (1998-2000, 2004 and 2006), while Tony Stewart is the only other driver with multiple wins in this 14-race span, taking the checkered flag in 2001 and 2005. Clint Bowyer is the defending champion.
Drivers to Watch
Jeff Gordon (7/1) - Winning at Sonoma is all about experience, and Gordon certainly has that with five wins, 12 top-5's and an average finish of 8.6 in 20 all-time starts at this track. Although he hasn't won this road course since 2006, he continues to run with the front of the pack with finishes of 7th, 3rd, 9th, 5th and 2nd and 6th in the past six races here. And although Gordon has been unlucky during the 2013 season with three crashes and a suspension issue, he's finished no worse than 13th in the past eight races that he's been able to complete. This includes a trio of third-place showings, including two of the past five starts (Darlington and Dover).
Clint Bowyer (10/1) - The defending champion at this track has placed fourth or better in three of the past four road races. In 2011, he placed 4th at Sonoma and 11th at Watkins Glen. In 2012, he won at Sonoma and finished 4th at Watkins Glen. In his past six starts at this particular road course, Bowyer has racked up four top-4 finishes. And he continues to climb steadily up the points standings this season, holding steady in third place thanks to an impressive 10-start span in which he has a 8.9 average finish with six top-8's.
Greg Biffle (40/1) - We've recommended Biffle as one of the handful of drivers to wager on in the past two races, and he responded by finishing second at Pocono and then winning at Michigan last week with 12-to-1 odds. Sunday's odds are quite a bit longer based on his pedestrian 14.9 career average at Sonoma. However, he's finished seventh or better in four of his past seven starts at this course, including a 7th-place showing last year. And in the most recent road course, Watkins Glen in 2012, Biffle churned out a sixth-place finish.
Kasey Kahne (20/1) - He has been tremendous in qualifying at Sonoma, starting no worse than 8th (including two poles) in six of his past seven starts at this track. And in two of the past four races here, he has capitalized on his envious starting position, winning the race in 2009 and finishing fourth in 2010. Although Kahne has posted poor finishes in his past two races this season (36th at Pocono and 35th at Michigan because of a crash), don't forget his impressive four top-two finishes this season.
Brian Vickers (60/1) - Our longshot of the weekend has to go to Vickers, who is hopping back into the seat of Mark Martin's No. 55 car for this race. In last year's Sonoma race, Vickers finished fourth, but couldn't build upon that at Watkins Glen because he lost his engine on Lap 1. He also won the pole at Sonoma in 2009. In five races this season, Vickers has either started or finished in the top-8 four times, with the one exception being Kansas. In his most recent start in Richmond, he earned the No. 2 starting spot, but crashed during the race. If you're feeling lucky, put down a one-unit wager on Vickers.
- Carrie Stroup, Gambling911.com Senior Reporter