Most Bet on College Football Games (September 27, 2008)
Published on:
Sep/27/2008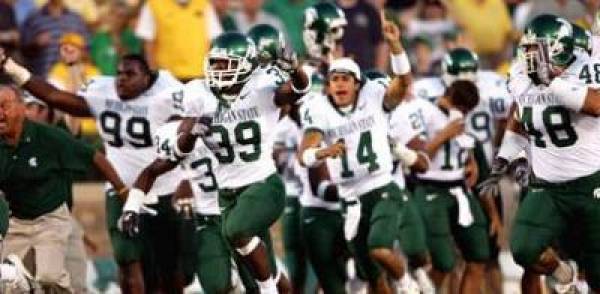 The hottest most bet on College Football games for Week 5 outside of USC vs. Oregon, which witnessed a shocking upset by those Beavers, were as follows:
For starters, let's make something perfectly clear: The online bookies are coming into this weekend with a huge smile on their face after USC not only failed to cover the spread, but were beaten outright by Oregon.
Michigan State vs. Indiana - The books will most certainly want a win from Indiana on Saturday. 82 percent of the betting action was going Michigan State's way Friday night in this one (with the percentage dipping to just under 80 percent heading into game time) and Gambling911.com believed the public was probably right here with The Spartans being able to cover a -8 point line. Michigan State was the single most bet on team heading into Saturday by far.
Wisconsin vs. Michigan - A lot of gamblers are siding with Wisconsin and, at some books, the Badgers are actually the most bet on team Saturday morning. 84 percent of the action was flowing Wisconsin's way. This was a mid afternoon matchup and the bookies will be rooting for Michigan to win by a +5 to +6 ½ cover, and hopefully nothing in between (this was the range in which the line moved since opening). Gambling911.com does believe strongly that Michigan can cover +6 ½.
Alabama vs. Georgia - With 82 percent of the betting action coming Alabama's way, the bookies will be hoping for a Georgia Bulldogs +6 ½ cover.
North Carolina vs. Miami Florida - Miami was an -8 point favorite and getting 80 percent of the action here. Some books had this one down to -7 ½. This one opened at Miami -7. The home team has always won in this series with Miami Florida always winning by a lot of points. The last two games played at Miami, North Carolina was a +20 or longer underdog, we should note. The books keep moving the line up even though all the action is going towards Miami and there is a massive underlay on this game. Gambling911.com believes North Carolina should be a favorite here. Still, it is these "out of whack" line scenarios we tend to stay clear of.
Tennessee vs. Auburn - Over 85 percent of the bets were going Auburn's way. This was yet another very lopsided matchup with bookies wanting the Vols to be sure. Gambling911.com has no opinion on the outcome of this game.
Purdue vs. Notre Dame - 62 percent of the action was on Purdue. The books will be hoping for a Notre Dame cover of anywhere from an outright win to being able to beat Purdue by a field goal since this line opened at Notre Dame -3 at a few books. There were no doubt a few middling opportunities throughout the week whereby people could have bet either side at different online sportsbooks, assuming the Fighting Irish were to win by somewhere between 1 and 3 points. Gambling911.com has Notre Dame winning this one outright, and that is all they have to do since the line had dropped down to a pick at some books.
Minnesota U vs. Ohio State - Ohio State was a -19 ½ favorite and getting more than 60 percent of the action.
-----
Christopher Costigan, Gambling911.com Publisher