Mo Lawal vs. Lorenz Larkin Fight Odds
Published on:
Jan/05/2012
Carrie Stroup here with your Strikeforce betting action and Mo Lawal vs. Lorenz Larkin fight odds.  Get up to $250 in FREE CASH when you open an online betting account today at the company that has been serving sports bettors since 1997. 
Sportsbook.com Line: Lawal -600, Larkin +400
In a test of two American fighters, Muhammed "King Mo" Lawal takes on undefeated up-and-comer Lorenz Larkin. This fight has a lot on the line, with a potential spot in the Strikeforce light heavyweight championship up for grabs, due to Dan Henderson's vacation of the title since his move to UFC.
Larkin has been dominant at the start of his MMA career, going undefeated in his first 12 bouts, but there is no question that has been against easier competition. His past three fights were with Strikeforce, though, and should have given him a taste of what Lawal can bring to the table. Lawal is 3-1 in Strikeforce, but it has been against a higher class of opponents, and he brings a notable win over Gegard Mousasi to the table. Although Lawal has great knockout power, Larkin has shown the ability to outlast his foes, winning his past two Strikeforce fights by decision.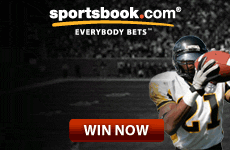 Lawal (8-1) has won six of his eight career fights by knockout, a true sign of his power. The former wrestling champion executes those moves beautifully in the arena and supplements it with a boxing power that gives his opponents all sorts of trouble. The key for him will be effectively incorporating his boxing early, because if he cannot earn a knockout, he will have difficulties winning this fight.
The undefeated Larkin (12-0) is also a strong striker, relying on an unusual Kung Fu fighting style to keep his opponents at bay. Like Lawal, he supplements it with boxing that also makes him a strong knockout fighter; eight of his 12 career wins have come via knockout. Still, his most recent Strikeforce wins have both been by decision, a strong signal from the 25-year-old that he can adapt his game to a higher level and not need to knock out a weaker opponent to earn the victory. He should be able to outlast and consistently outfight Lawal in this bout, so play on him here.
- Carrie Stroup, Gambling911.com Senior Reporter