MLB: Braves favored over fading Phillies
Published on:
Jun/01/2010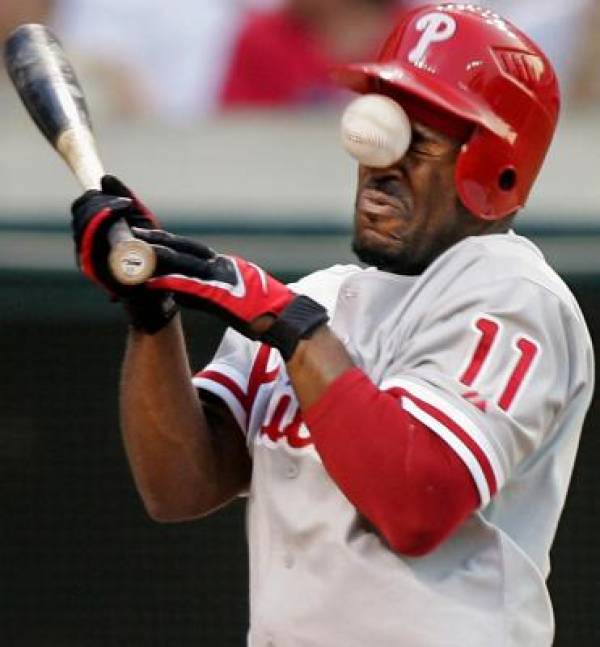 A masterful pitching performance over the weekend briefly masked the Philadelphia Phillies' troubles, but right now the reigning NL champs are far from perfect. The Phillies have scored 10 runs in their last nine games while ceding first place to the Braves. Tim Hudson will look to add to Philadelphia's misery while extending Atlanta's winning streak to seven Tuesday night at Turner Field. The hosts are -125 favorites according to Sportsbook.com.
Roy Halladay's perfect game Saturday night at Florida stole the major league spotlight, but the Phillies' prolonged offensive drought is becoming a big story in its own right.
Philadelphia (28-22, -3.2 units) hit .187, totaled 10 runs and delivered just one homer in going 2-7 to end May, and it's surprising ineptitude caught up with it in the standings Monday. Chipper Jones and Troy Glaus homered as the Braves (29-22, +3.4) cruised to a 9-3 win and took over first place in the NL East.
The Phillies hadn't been out of first place since May 1. "Frustrated? Yes, we're frustrated," said left fielder Raul Ibanez, whose team is 5-14 after five straight games where they had less than 10 hits. "But we're not down. This is a team of guys that are going to fight and scratch and claw."
Jones, a .340 career hitter versus Philadelphia who has more homers against the Phillies (44) than anyone, doesn't believe the slump will last much longer. "At some point they're going to break out of it," Jones said. "You just hope it's not against you. We've been fortunate."
The Braves' six-game winning streak is their longest since a pair of seven-game runs in September and has been victorious in 16 of last 20 overall. Hudson (5-1, 2.24 ERA, 1.135 WHIP) seems like an ideal candidate to continue holding Philadelphia's powerful lineup at bay.
Yet Hudson's experience in recent years against the Phillies suggest it may be his own offense who has a rocky day at the plate. The right-hander is 0-5 with a 4.01 ERA in his last nine starts versus Philadelphia, as Atlanta has backed him with an average of only 1.70 runs of support.
Hudson gave up two runs over six innings when the Phillies visited April 21, but got no help in a 2-0 loss. The former Oakland A's hurler is 1-6 at Turner Field of late against teams with a winning record. (Braves record) That's the only time the former 20-game winner has suffered a defeat in 2010. Hudson finished May 4-0 with a 1.59 ERA, though a rain delay cost him a win Thursday at Florida, as he didn't return despite holding a 3-2 lead after four innings.
The best bet to help the Phillies emerge from their slump might be Ryan Howard, even though he's 4 for 31 (.129) over his past nine games. The 2006 NL MVP is a .361 (13 for 36) hitter with five homers and eight walks against Hudson. Nevertheless the Phils are 14-23 with an on-base percentage of .285 or worse in their last five outings.
The 2008 World Series MVP, meanwhile, had a rather impressive past month. Cole Hamels (5-3, 3.82, 1.414) was 3-1 with a 2.45 ERA in May, though he fell victim to Philadelphia's offensive struggles Thursday. Hamels held the New York Mets to two earned runs over 6 1/3 innings in a 3-0 loss.
The left-hander gave up three runs over five innings in a 5-3 home win over Atlanta on May 9, but beating the Braves is nothing new to Hamels. Since losing his first two outings versus Atlanta, he's 8-2 with a 3.70 ERA in 13 starts. Hamels has not been the streak-stopper his team needs and is 9-14 after a loss over the last two seasons. (Phillies Record) He hasn't had an easy time with the entire Braves' roster, however. Jones is 9 for 22 (.409) against Hamels, while Brian McCann is 11 for 32 (.344). Twelve of their 20 hits have been for extra bases.
Sportsbook.com has Atlanta as -125 money line favorites to stay hot with total of 7.5. The Braves are 17-4 as home favorites in 2010 and 16-4 UNDER after batting .290 or better over a 20-game span since 2008. Despite offensive woes, Philadelphia is 22-9 in road games vs. NL teams scoring 4.8 or more runs a game since last season and is 24-10 UNDER in visiting gray uniforms after two or more consecutive losses.
ESPN will have Game 2 of this NL East conflict with the teams having split four in Atlanta this season, but Philadelphia 15-7 the last three years in Georgia.