Minnesota Vikings 2008 Odds and Odds to Win 2009 Super Bowl
Published on:
Aug/23/2008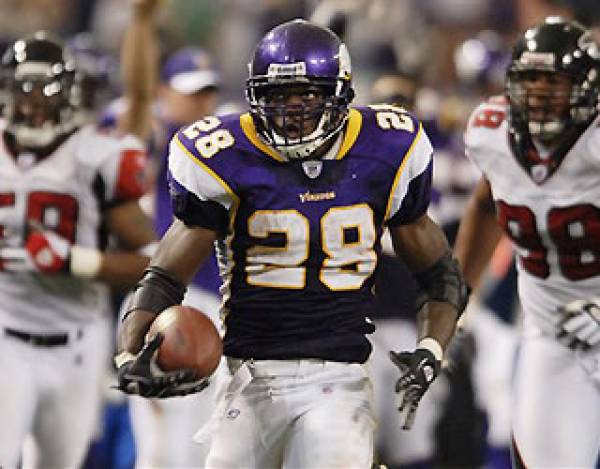 There has been a lot of talk about the Minnesota Vikings being one of the top teams in the NFC and their 2008 odds seem to reflect this as does the Vikings odds to win the 2009 Super Bowl.
Going all the way and winning the Super Bowl, Minnesota had odds of +2000 for a potential $2000 payout on every $100 bet. Their odds of winning the NFC Championship was set at +900. The Vikings odds to win more than 9 regular season games was set at -125.
Some concerns lie with the quarterback position according to AOL Fan House.
At his best, Tarvaris Jackson is a strong-armed QB with good mobility. At his worst, Jackson is an inaccurate QB who doesn't do a good job feeling pressure, and struggles to connect on passes further than 10 yards downfield. Gus Frerotte is a better backup than the Vikings had last year, but he's deliberately not good enough to give Jackson a threat for the starting job.
Obviously, the quarterback position is essential.
The Vikings are solid enough in other positions to help boost Jackson's success, however. Adrian Peterson is one of the best running backs in the league. The offensive line should be hot as will the defensive line.
In conclusion, The Fan House points out that:
Chicago doesn't have a quarterback or a wide receiver, Green Bay is trying to recover from the Brett Favre drama, and the Lions are still run by Matt Millen. The division is wide open for Minnesota to take. And while every other NFC North team has been dealing with controversy and/or drama, the Vikings have had a relatively quiet offseason. Maybe it's a sign that things are finally going Minnesota's way.
Minnesota probably still has value in the NFC North Division, paying $140 for every $100 bet at Sports Interaction (Canadian customers only).