Mayweather vs. Pacquiao Method of Victory Betting Odds
Published on:
May/01/2015
The super popular Mayweather vs. Pacquiao Method of Victory betting odds were available at BetPhoenix.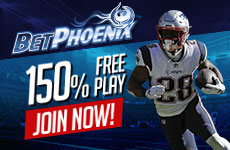 It is clear to see that the oddsmakers believe this fight will not end in a knockout as a decision comes in as the favorite.
More specifically, Floyd Mayweather, Jr. by decision was listed as the -150 favorite.  We have seen this price fluctuate between -130 and -150.
Manny Pacquiao by decision pays would pay out 4/1 odds and might be the better alternative to an outright Pacquiao win, which pays only 2/1 odds.
In case you were wondering, a knockout by Mayweather Jr. pays $550 for every $100 bet or $55 for every $10 bet.  A knockout by Pacquiao pays $650 for each $100 bet or $65 for every $10.
The fight ending in a draw pays $1600 on a $100 bet.
Scroll down for all the latest odds…..

Cut Off

#

Description

Odds

BOXING PROPS - May 02

05/02/2015 20:00:01

 

GROUP ROUND ODDS -PACQUIAO VS MAYWEATHER- ALL IN

 
 

24621

PACQUIAO WINS IN RD 1-3

+3000

 

24622

PACQUIAO WINS IN RD 4-6

+2000

 

24623

PACQUIAO WINS IN RD 7-9

+1400

 

24624

PACQUIAO WINS IN RD 10-12

+1400

 

24625

PACQUIAO WINS BY DECISION

+400

 

24626

MAYWEATHER WINS IN RD 1-3

+3300

 

24627

MAYWEATHER WINS IN RD 4-6

+2200

 

24628

MAYWEATHER WINS IN RD 7-9

+1600

 

24629

MAYWEATHER WINS IN RD 10-12

+2000

 

24630

MAYWEATHER WINS BY DECISION

-150

 

24631

DRAW

+1600

05/02/2015 20:00:01

 

METHOD OF VICTORY -PACQUIAO VS MAYWEATHER -ALL IN

 
 

24611

PACQUIAO BY TKO/KO/DQ

+650

 

24612

PACQUIAO BY DECISION

+400

 

24613

MAYWEATHER BY TKO/KO/DQ

+550

 

24614

MAYWEATHER BY DECISION

-150

 

24615

DRAW

+1600

05/02/2015 20:00:01

 

ROUND BETTING - PACQUIAO VS MAYWEATHER -ALL IN

 
 

24631

PACQUIAO WINS IN RD 1

+8000

 

24632

PACQUIAO WINS IN RD 2

+6600

 

24633

PACQUIAO WINS IN RD 3

+5000

 

24634

PACQUIAO WINS IN RD 4

+4000

 

24635

PACQUIAO WINS IN RD 5

+4000

 

24636

PACQUIAO WINS IN RD 6

+4000

 

24637

PACQUIAO WINS IN RD 7

+3300

 

24638

PACQUIAO WINS IN RD 8

+3300

 

24639

PACQUIAO WINS IN RD 9

+3300

 

24640

PACQUIAO WINS IN RD 10

+3300

 

24641

PACQUIAO WINS IN RD 11

+4000

 

24642

PACQUIAO WINS IN RD 12

+4000

 

24643

PACQUIAO WINS BY DECISION

+400

 

24644

MAYWEATHER WINS IN RD 1

+8000

 

24645

MAYWEATHER WINS IN RD 2

+6600

 

24646

MAYWEATHER WINS IN RD 3

+6600

 

24647

MAYWEATHER WINS IN RD 4

+5000

 

24648

MAYWEATHER WINS IN RD 5

+4000

 

24649

MAYWEATHER WINS IN RD 6

+4000

 

24650

MAYWEATHER WINS IN RD 7

+4000

 

24651

MAYWEATHER WINS IN RD 8

+4000

 

24652

MAYWEATHER WINS IN RD 9

+3500

 

24653

MAYWEATHER WINS IN RD 10

+3500

 

24654

MAYWEATHER WINS IN RD 11

+3500

 

24655

MAYWEATHER WINS IN RD 12

+5000

 

24656

MAYWEATHER WINS BY DECISION

-150

 

24657

DRAW

+1600
- Tyrone Black, Gambling911.com