Lakers vs. Celtics Betting Odds (February 5, 2009)
Published on:
Feb/04/2009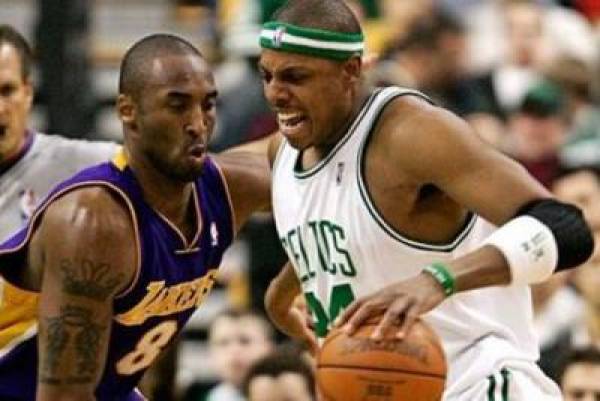 The Boston Celtics and Los Angeles Lakers play one of the biggest games in the NBA regular season on Thursday night and you can bet on it at Sportsbook.com.
The Lakers delivered the first blow on Christmas with a 92-83 win at home as two-point favorites, breaking an incredible 0-9 ATS streak L.A. had going against the C's.
Thursday night's game promises to be just as exciting as it's the first half of the TNT doubleheader at 8 pm ET, followed by another good one with the Dallas Mavericks at the Utah Jazz.
You can get all the latest odds at Sportsbook.com and don't forget about their $20.00 Free Play for New Mobile bettors - Learn more at Sportsbook.com. The first $20.00 wager you make through your mobile phone on any NFL, NBA or NCAAB Half-Time Line is Free.
The big news surrounding the Lakers this week has been the knee injury of Andrew Bynum that will keep him out 8-12 weeks. Bynum was the key to the first game against Boston and not because he scored nine points and had seven rebounds.
Bynum was a defensive presence in the middle and he forced a number of players to alter their shots after they beat their man and got into the lane. With Pau Gasol now manning the middle and the equally soft Lamar Odom at power forward, the Celtics will be more apt to drive to the rim with authority.
The Celtics have also had health issues this week, but they've been the temporary variety with the flu bug hitting the team. Kevin Garnett missed the last two games, home to Minnesota and at Philadelphia, and while Boston won both, they failed to cover either one.
Garnett is probable to play in this game and that is key because he is the team's emotional leader. And while Celtics fans would love to see 'KG' post up more and settle less for jumpers, outside shooting is a big part of his game.
If the Lakers are to sweep the season-series, Kobe Bryant is going to need another monster game. Bryant scored 61 points against the Knicks earlier this week and he won't have to deal with James Posey guarding him off the bench, which caused him some problems in the Finals.
Boston's Ray Allen is a solid defender against Kobe, but Bryant is long enough to get his jumper off at any point, and he'll have a big night as long as his shot is falling.
Look for Boston to be more physical than in the first meeting, and that could pay off with L.A. playing a game in Toronto on Wednesday night, although the Lakers are 8-3 ATS in back-to-back contests.
The Lakers snapped Boston's 19-game winning streak back in December and the Celtics carry a 12-game streak heading into this game. It won't be broken this time without a fight, so head over to Sportsbook.com and let your voice be heard.
Carrie Stroup, Gambling911.com Senior Reporter