Georges St-Pierre vs. Jakes Shields UFC 129 Odds
Published on:
Apr/29/2011
Georges St-Pierre vs. Jakes Shields UFC 129 odds have St-Pierre listed at an impressive -500 at SBG Global.
Sports bettors might not be very impressed.  They have to wager $50 just to win $10 on St-Pierre (the $50 is refunded plus the winnings should St-Pierre be victorious). 
A better bet might be on Shields at +300, paying $30 for every $10 bet.
For his part, St-Pierre has promised victory on Saturday night.
"It's going to go down with a victory. That's what I promise," the 29-year-old from Montreal said.  St-Pierre will have the home advantage fighting at Ricoh Coliseum, and that edge has certainly been factored into the odds.  "Don't blink tomorrow, don't blink."
Shields assured the press that won't happen.
"He's a great fighter but I'm bringing the belt home with me," said Shields (26-4-1). "People can boo all they want but it's me and Georges in the cage and it's going to be an all-out war, one I'm going to make you remember."
Certainly there is value on Shields from a betting perspective but the odds are definitely against him.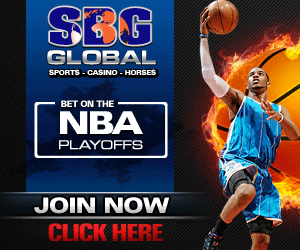 Current odds on Georges St-Pierre vs. Jakes Shields available at SBG Global for UFC 129 (subject to change, lock them in here)
Saturday, April 30, 2011
UFC 129: John "The Bull" Makdessi vs. Kyle Watson

6:00 PM

5201

John Makdessi

-200

-

-

5202

Kyle Watson

+160

-

-

UFC 129: Pablo "The Scarecrow" Garza vs. Yves "Tiger" Jabouin

6:05 PM

5203

Pablo Garza

+140

-

-

5204

Yves Jabouin

-170

-

-

UFC 129: Ivan "Pride of El Salvador" Menjivar vs. Charlie Valencia

7:00 PM

5205

Ivan Menjivar

-185

-

-

5206

Charlie Valencia

+155

-

-

UFC 129: Jason "The Athlete" MacDonald vs. Ryan Jensen

7:00 PM

5207

Jason MacDonald

+105

-

-

5208

Ryan Jensen

-135

-

-

UFC 129: Claude "The Prince" Patrick vs. Daniel "Ninja" Roberts

7:05 PM

5209

Claude Patrick

-155

-

-

5210

Daniel Roberts

+125

-

-

UFC 129: Jake "The Juggernaut" Ellenberger vs. Sean Pierson

9:00 PM

5211

Jake Ellenberger

-215

-

-

5212

Sean Pierson

+175

-

-

UFC 129: Nate Diaz vs. Rory MacDonald

9:05 PM

5213

Nate Diaz

-115

-

-

5214

Rory MacDonald

-115

-

-

UFC 129: Jason "The Hitman" Brilz vs. Vladimir "The Janitor" Matyushenko

10:10 PM

5215

Jason Brilz

-125

-

-

5216

Vladimir Matyushenko

-105

-

-

UFC 129: Benson "Smooth" Henderson vs. Mark Bocek

10:15 PM

5217

Benson Henderson

-130

-

-

5218

Mark Bocek

+100

-

-

UFC 129: Lyoto "The Dragon" Machida vs. Randy "The Natural" Couture

10:45 PM

5219

Lyoto Machida

-350

-

-

5220

Randy Couture

+250

-

-

UFC 129 - Featherweight Championship: Jose "Scarface" Aldo vs. Mark "The Machine" Hominick

11:00 PM

5221

Jose Aldo

-500

-

-

5222

Mark Hominick

+300

-

-

UFC 129 - Welterweight Championship: Georges "Rush" St. Pierre vs. Jake Shields

11:30 PM

5223

Georges St. Pierre

-500

-

-

5224

Jake Shields

+300

-

-
Saturday, May 28, 2011
-Tyrone Black, Gambling911.com
Follow breaking headlines around the clock at Gambling911.com Twitter Here