Carrie Stroup here with your Daytona 500 2012 betting odds.  Remember, you can receive up to $250 in FREE CASH when you join Sportsbook.com here today (based on an initial deposit). 
The NASCAR season is underway with the historic Daytona 500 taking place Sunday. Longshot Trevor Bayne took home the checkered flag last year despite starting 32nd, and he is billed at 40-to-1 odds to repeat. Daytona International Speedway, completed in 1959, is a 2.5-mile, tri-oval track with huge bankings (31-degree turns, 18-degree tri-oval banking). The frontstrech measures 3,800 feet with the backstretch coming in at 3,000 feet.
Drivers to Watch
Tony Stewart (8/1) - The reigning points champion has three career wins at this track, and he'll be starting in Row 2 after winning the first Duel on Thursday. Although he's never won the Daytona 500 in 13 tries, the odds are certainly favorable for "Smoke."
Greg Biffle (25/1) - Getting 25-to-1 odds for a front-row driver is pretty tremendous. Biffle's average finish at Daytona is a subpar 21.4, but he's started better than ninth place only once (pole in 2004) in 18 career races at this track. Last season, he finished 3rd, 8th, 15th and 5th in the last four instances of starting fifth or better.
More Follow Below...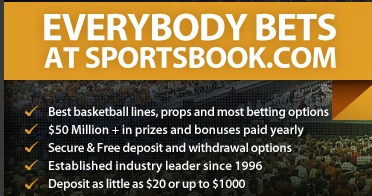 Jimmie Johnson (14/1) - He has not been a factor in five straight starts at Daytona International Speedway, finishing 31st, 35th, 31st, 20th and 27th. Although he'll be starting eighth on Sunday, his starting position has been eighth or better in four of these past five failed races. His 14-to-1 odds may be worth a small wager though, because these odds are about as long as you're going to see Johnson get all season.
Carl Edwards (12/1) - The points runner-up last year will start on the pole as he seeks his first victory at this track. Edwards has top-10's in five of his past seven races at Daytona, including a 2nd-place finish last year. He represents pretty good value at 12-to-1, but he has never won a NASCAR race on a superspeedway in 36 attempts.
Dale Earnhardt Jr. (10/1) - The race favorite has conquered this track twice and has seven superspeedway wins in his career. Earnhardt Jr. is also starting in the top six (fifth) for the seventh time in 10 races at Daytona, but those favorable starts have produced mixed results, as he's finished 32nd, 8th, 9th, 2nd, 19th and 24th.
Danica Patrick (75/1) - Patrick is certainly a longshot, especially after getting tagged by Aric Almirola in Thursday's Gatorade Duel sending her crashing into an inside retaining wall. This will force Patrick to use her backup car in her Daytona debut Sunday. It would be a truly unbelievable story if she could hang with the big boys on Sunday.
- Carrie Stroup, Gambling911.com Senior Reporter